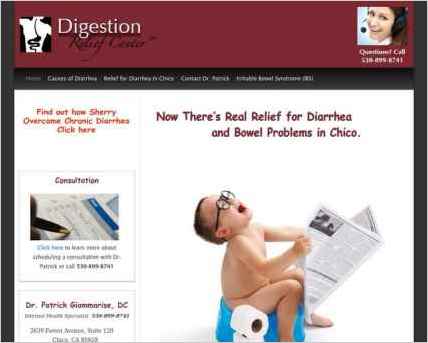 Sandvox was the choice for Patrick Giammarise, DC to build his website. He chose the "Carbone Light Blue" design for the site.
Digestion Relief Center
(Website is no longer listed here.)
Sandvox features used for this site:Site Map, Contact Form
Visit Digestion Relief Center »
---
Describe your website.
The Digestion Relief Center works with patients in hopes [of finding] relief to bowel related problems such as: irritable bowel syndrome (IBS), diarrhea, constipation, abdominal cramping, gas, irregular bowel movements, and much more. Dr. Patrick Giammarise, D.C. works closely with patients to find the root cause of their discomfort and reassures his patients we can find a cure.
Who is the target audience for your website?
The Digestive Relief Center offers relief for adults and children in Chico and Northern California who [want] to find answers to their unresolved diarrhea, constipation, gas, and irritable bowel problems.
What is the advantage of your website over others?
Sandvox's contact form makes for a highly responsive site for users to ask questions of us.
Tell us a story about this website.
Our Sandvox site has brought us patients from as far away as Australia.
Why did you use this Sandvox design?
Clean, crisp, easy to work with, and templates allowed us to complement our main site.
---
---
www.SandvoxSites.com/3064