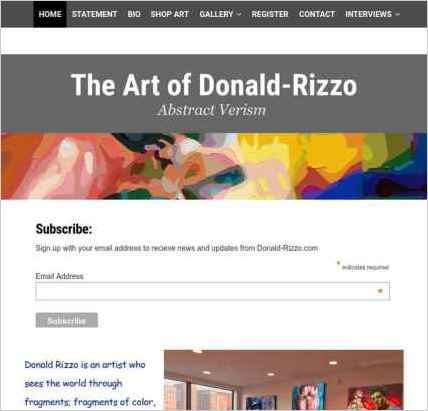 Donald Rizzo used Sandvox to build this website. He chose the "Blueball Apex Black" design for the site. People may want to visit the site if they are looking for Visual Artist.
Sandvox features used for this site:Photo Grid, Contact Form, Code Injection, Google Integration
Visit Donald-Rizzo Abstract Verism »
---
Describe your website.
I'm a visual artist and my website showcases my work and style of Abstract Verism.
Abstract: art that does not attempt to represent external, recognizable reality but seeks to achieve its effect using shapes, forms, colors, and textures.
Verism: From the Latin word meaning "true," verism is the name of a style of portraiture that is hyperrealistic and emphasizes individual features a naturalistic approach, in which every wrinkle and flaw is present; strict representation of truth and reality including the homely and vulgar.
You see, "Every painting is a fragment of my self portrait" and "I've earned every wrinkle and scar, why hide them."
---
---
www.SandvoxSites.com/2906