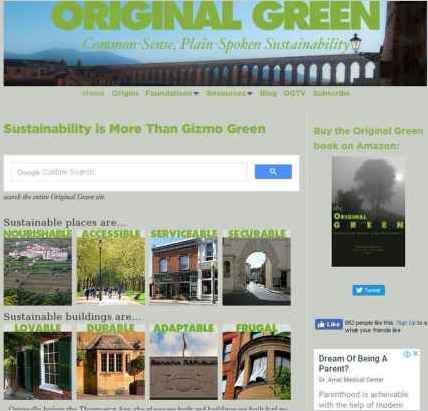 Steve Mouzon used Sandvox to build this website for The Guild Foundation. He chose the "OriginalGreen" design for the site. People may want to visit the site if they are looking for sustainability, green building, sustainable places, New Urbanism.
Sandvox features used for this site:Blog, Photo Grid, Custom Collection Index, Site Map, Amazon.com, YouTube, QuickTime Audio/Video, RSS Feed Object, Other Objects, Editing HTML of text, Raw HTML Object, Code Injection, Google Integration
---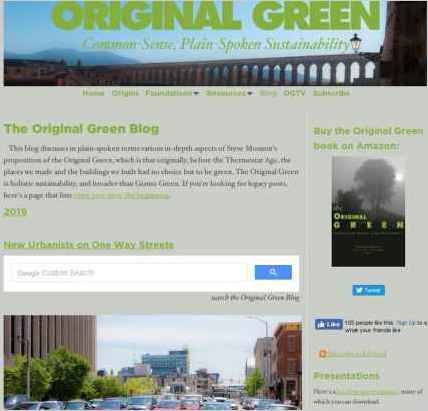 Describe your website.
The Original Green site lays out common-sense, plain-spoken sustainability in ways you might not have thought of until now. The Origins page explains where the idea came from. The Foundations collection of pages explains the core ideas of places that are Nourishable, Accessible, Serviceable, and Securable, and of buildings that are Lovable, Durable, Adaptable, and Frugal. The Resources collection contains a number of useful things like a Bookstore, Links page, Twitter Streams page, and a list of Presentations I've given. The Blog is my most intense "thinking out" place, and OGTV is my video blog.
Who is the target audience for your website?
Anyone who is interested in keeping things going in a healthy way, long into an uncertain future might be interested in my site. In other words, it's meant to have broad appeal. It might have somewhat greater appeal to younger people, but older people should be interested in sustainability as well because that's how their legacy can be kept alive.
What is the advantage of your website over others?
The Original Green site doesn't have competitors per se because I take a remarkably different approach from today's common "Gizmo Green" discussions. With that having been said, the site aspires to be common-sense and plain-spoke as the tagline states. It is meant to be rational, compelling, and inspiring so that people aren't just entertained or informed, but so they do things differently as a result of what they see and read there.
Tell us a story about this website.
In large part because of this site and the book it spawned, I was invited to speak in London at an event sponsored by the Prince's Foundation for the Built Environment. The next day, Prince Charles had all the speakers over to Saint James Palace for lunch.
Why did you use this Sandvox design?
I chose the Clean Sheets design because it lets me get the look I want. I have used Clean Sheets to design several other sites as well, each one with its own signature look.
What techniques did you use to build this website?
I've done a lot of (for me) cool stuff on this site, including the following:
• Facebook Comments makes a great free Guestbook.
• I use Google Custom Search with ads, which provides revenue I use for web hosting, etc.
• people regularly ask about getting listed on my Links and Twitter Streams, then tweet about it when they're listed, promoting my site in the process.
• I post many of my presentations as PDF files on the site, and when people come to download, they often explore other parts of the site.
• The blog does so many great things for me. For example, I regularly tweet-cast events I'm at, then I assemble all the tweets later into a blog post which makes a great account of the event. Lots of people come to read my posts, especially if they didn't take good notes themselves.
• I love how easy it is to put YouTube videos into OGTV… this means I don't need to host them on my site.
---
---
www.SandvoxSites.com/2894