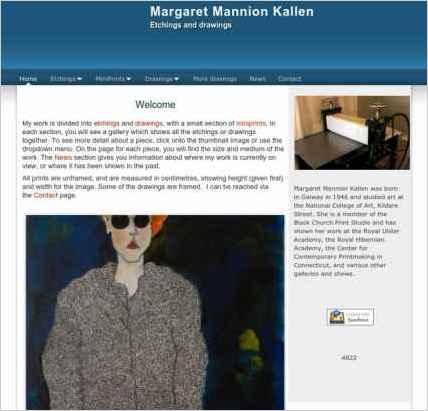 Jeffrey Kallen used Sandvox to build this website. He chose the "Mezzanotte" design for the site. People may want to visit the site if they are looking for Etchings drawings.
Sandvox features used for this site:Photo Grid, Custom Collection Index, Contact Form, Other Objects
Visit Margaret Mannion Kallen - Etchings and Drawings »
---
Describe your website.
This website shows etchings and drawings done by Margaret Mannion Kallen. Visitors to the website can see galleries of these artworks, and where interested can contact the artist to enquire about purchasing the work. Margaret Mannion Kallen is a member of the Black Church Print Studio in Dublin and has shown her work at the Royal Ulster Academy, the Royal Hibernian Academy, the Center for Contemporary Printmaking in Connecticut, and other venues.
Who is the target audience for your website?
The site should interest anyone who is interested in etching or drawing.
What is the advantage of your website over others?
This is a unique website devoted to one artist. Of course there are many websites of art works, but this is the only one that features this Irish artist.
Why did you use this Sandvox design?
This design seems best for displaying a gallery of photographs of etchings and drawings. It is suitable for building in links for e-commerce if the further development of the website moves in this direction.
What techniques did you use to build this website?
So far this website is fairly simple, so all I have done is written text and insert jpegs. I did a version with links to PayPal that required inserting code, and though I decided not to use that, it worked well and I would be happy to try again should the need arise.
---
---
www.SandvoxSites.com/2888