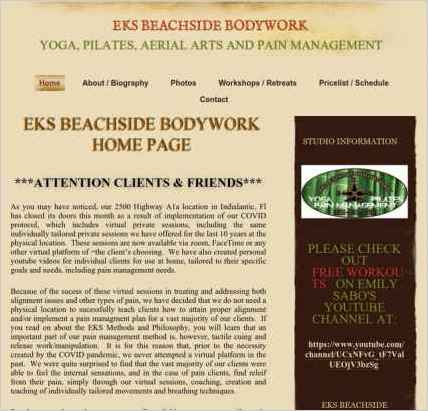 To build "EKS Beachside Bodywork," Emily Sabo chose Sandvox. She chose the "Telegraph Office" design for the site. People may want to visit the site if they are looking for yoga in indialantic florida, pilates in indialantic florida.
Sandvox features used for this site:Photo Grid, Other Objects
Visit EKS Beachside Bodywork »
---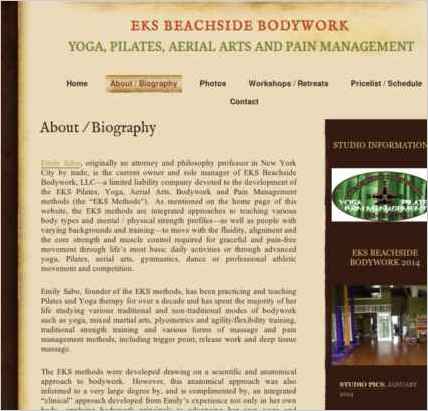 Describe your website.
My website is designed to promote my business, EKS Beachside Bodywork, a yoga, Pilates, Aerial Arts and Pain Management Studio, as well as to provide information regarding the alignment based EKS Methods of bodywork employed there. My website also includes information regarding workshops and yoga retreats and other retreats I host.
Some content:
EKS Beachside Bodywork is a fully equipped Yoga, Pilates, Aerial Arts and Pain Management Studio assisting practitioners in increasing their mobility, strength, flexibility and overall health and well being through precise and highly coordinated movement and the attainment of long term proper body alignment through use of the "EKS Methods" of Yoga, Pilates, Aerial Arts and Pain Management (the "EKS Methods").
The EKS methods, developed by Studio owner, Emily Sabo, are integrated approaches to teaching various body types and mental / physical strength profiles—as well as people with varying backgrounds and training—to move with the fluidity, alignment and the core strength and muscle control required for graceful and pain-free movement through life's most basic daily activities or through advanced yoga, Pilates, aerial arts, gymnastics, dance or professional athletic movement and competition. [Learn more about Emily Sabo and the development of the EKS Methods of bodywork on the About / Biography page.] Instruction at EKS Beachside Bodywork stresses proper alignment with anatomical verbal and tactile cues to assist the practitioner in finding deeper and more effective postures safely.
Who is the target audience for your website?
EKS Beachside Bodywork employs the EKS Methods of yoga, Pilates and Pain Management and features gratz Pilates equipment and state of the art aerial silks and yoga hammocks for aerial yoga and beyond.
Ideal candidates for, and practitioners of, the EKS methods span from advanced yogis, dancers and Pilates advocates and instructors—and even professional athletes—on the one hand and extreme, to partially or fully immobilized (and sometimes desperate) clients in chronic and intense pain, who have perhaps found little or no relief from the often overly medicinal and surgical approaches to pain management employed by many traditional western medicine professionals and physical therapists, on the other hand and extreme. The reason these methods are valuable at both extremes is that they establish the ability of the practitioner to control and differentiate muscle groups on a micro level as opposed to the usually very macro level employed subconsciously by most people for movement of the body, core and limbs through life and various physical activities. Strength is not only the ability to flex a muscle, but also the ability to disengage other muscles which are pulling against the flexed muscle and decreasing the effectiveness of its engagement. A muscle flexed while other muscles are flexing in the opposite direction becomes less effective since the body is essentially fighting against itself—this produces misalignment and resulting pain, oftentimes, but it also reduces efficiency of movement, balance and control all too important to athletes operating at peak performance.
What is the advantage of your website over others?
My website provides detailed analysis of the anatomy of movement and illustrates possession of the knowledge required to help practitioners to safely and efficiently depend their yoga, Pilates or other bodywork practice and/or to realign their bodes to become pain free in the cases in which potential clients are merely seeking pain free movement through their daily lives.
Why did you use this Sandvox design?
The design I have chosen for my website matches the look of my studio well and compliments the photos of my studio on my website.
---
---
www.SandvoxSites.com/3021