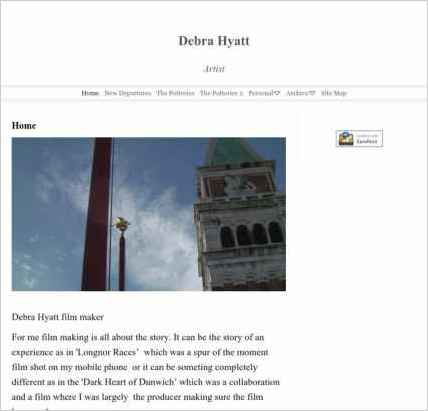 Ms. D. J. Hyatt used Sandvox to build this website. She chose the "Clean Sheets" design for the site. People may want to visit the site if they are looking for a video maker.
Sandvox features used for this site:External Page, Site Map, Contact Form, YouTube, Other Objects, Raw HTML Object
---
Describe your website.
My website is designed to give an overview of the kind of video projects I have been involved in over the past couple of years. It looks at my personal and corporate work. it looks at the collaborations I have made with other organizations.
Who is the target audience for your website?
The target audience for my website is any arts organisation, practising artist or any community organisation who is looking for someone to make videos for them. My key interest is the environment so I would be looking for commissions for organisations linked to it. The website explains something of my working background and hopefully communicated that I have been a video practitioner for quite al one time and hence have arrange of skills to draw up on.
What is the advantage of your website over others?
I think my website makes it plain that I bring an individual approach to my film making with emphasis on the story and a clear understanding of how meaning is created on the screen. My personal work draws attention to the more creative aspects of my work - the element which brings something else to a video and makes it more engaging.
Tell us a story about this website.
So far the website has only being going 3 days...
Why did you use this Sandvox design?
I chose this design because it was approachable. it feels cheerful. Not too corporate and not too arty!
What techniques did you use to build this website?
i don't think i did anything too clever. I just used photos with links to Vimeo and Youtube to give my pages more of a sense of continuity. I have used hyperlinks quite [a bit] so visitors can visit the sites the organisation I have mentioned.
---
---
www.SandvoxSites.com/2999