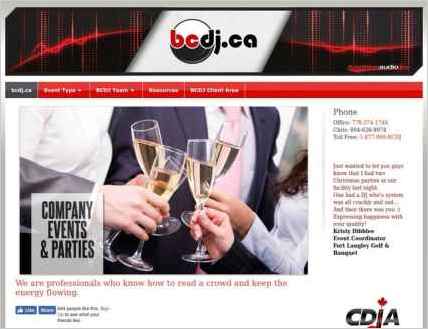 Sandvox was the choice for Drew to build his website. He chose the "Blueball Gravitas Red" design for the site.
Sandvox features used for this site:External Page, Photo Grid, Contact Form, YouTube, Other Objects, Editing HTML of text, Raw HTML Object, Code Injection, Google Integration
---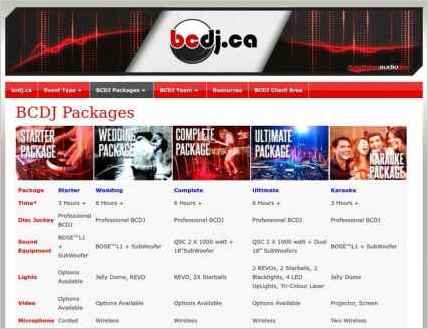 Describe your website.
Product information for a DJ business in Vancouver, BC
Who is the target audience for your website?
Wedding couples, company social committees, pubs, and night clubs
What is the advantage of your website over others?
The website has a simple to understand navigation flow and is able to get more information available without looking cluttered.
Tell us a story about this website.
After publishing the site I saw an increase in traffic almost immediately. My organic web traffic more than tripled.
Why did you use this Sandvox design?
I designed a basic site first using one of the stock templates available and then started going through all the other designs to see if one stood out for me. I didn't see anything that wanted to use so I started searching the web for third party templates for Sandvox. I found the Blueball Gravatis template design worked for what I wanted to do. I like the drop down menus and the ease of customizing the colour.
What techniques did you use to build this website?
On the packages page I used a table code I found on the Internet in order to create a comparison chart.
---
---
www.SandvoxSites.com/2965