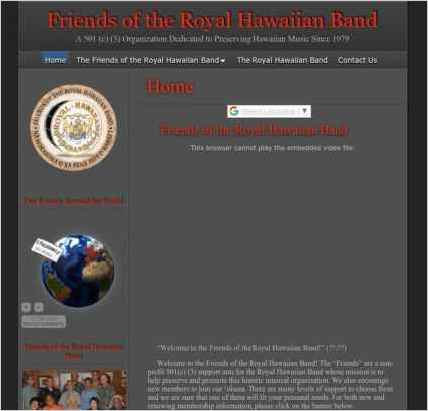 To build "Friends of the Royal Hawaiian Band," David W. Bandy chose Sandvox. He chose the "Smooth Dark" design for the site.
Friends of the Royal Hawaiian Band
(Website is no longer listed here.)
Sandvox features used for this site:External Page, Photo Grid, Contact Form, YouTube, QuickTime Audio/Video, RSS Feed Object, Other Objects, Editing HTML of text, Raw HTML Object
Visit Friends of the Royal Hawaiian Band »
---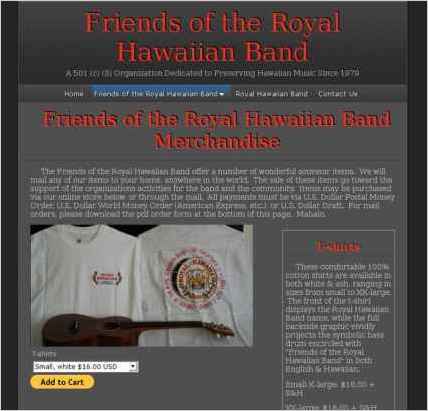 Describe your website.
Our web site centers on our non-profit organization, the musical group it helps to support, which is called the Royal Hawaiian Band, and the different events that we are involved in that help to support the cause of Hawaiian music. We also have an online merchandise store in order to help raise funds for the organization.
Who is the target audience for your website?
Our site is targeted for anyone interested in Hawaiʻi, Hawaiian music and history, and of course, the Royal Hawaiian Band, which is the only band in the United States that was founded by a royal decree. The band was founded by King Kamehameha III in 1836.
Why did you use this Sandvox design?
Our Sandvox design was a perfect fit for not only our organization, but for the group we support as well. The color scheme of our site also blends perfectly with the royal colors of the Hawaiian Monarchy, plus gives us the flexibility, to create colorful, eye-catching specialty banners.
What techniques did you use to build this website?
Never having built a site before, everything was new to me. My intent was to build a "class" site with a professional look, that could continue to grow and offer the public everything that we could offer them, including links to audio music and downloadable sheet music. Sandvox was perfect for everything.
---
---
www.SandvoxSites.com/2913