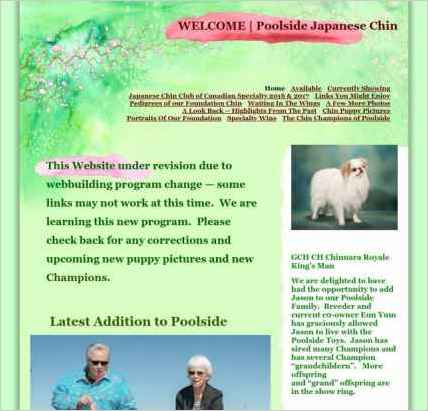 Marjorie Conway used Sandvox to build this website. She chose the "Branching Out" design for the site. People may want to visit the site if they are looking for Information about Japanese Chin.
Sandvox features used for this site:External Page, Photo Grid, Site Map, QuickTime Audio/Video, Editing HTML of text
This website is hosted by Sandvox Hosting.



Visit Poolside Japanese Chin »
---
Describe your website.
There are pictures of my AKC Champion Japanese Chin, a history of my life in showing dogs, information about Japanese Chin, health testing, links for pertinent organizations, etc.
Who is the target audience for your website?
Other Japanese Chin fanciers and those people interested in learning about the Japanese Chin would be my intended audience.
What is the advantage of your website over others?
My website is informative, pretty, with some added features (music) but not so much animation that folks with limited band width could/would not care to open.
Why did you use this Sandvox design?
When looking to transfer my Japanese Chin website from iWeb, I was delighted to find a design with the Cherry Blossoms. It was a perfect transition and I could not have "ordered" a more appropriate design.
What techniques did you use to build this website?
In building this website on Sandvox, I learned about editing music on quicktime to provide a pertinent, but not too long, segment of music.
---
---
www.SandvoxSites.com/2918