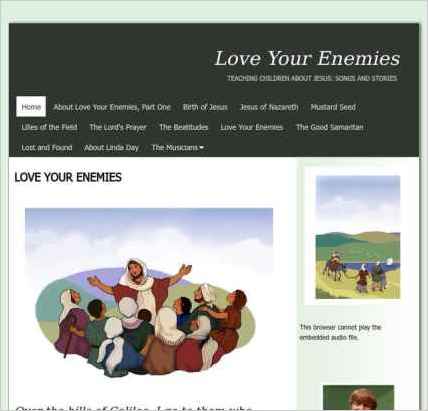 Sandvox was the choice for Linda W. Day to build her website. She chose the "Minty Fresh" design for the site.
The illustrated eBook, Love Your Enemies, is a musical story of Jesus, written for my grandchildren to sing.
(Website is no longer listed here.)
Sandvox features used for this site:Photo Grid, QuickTime Audio/Video, Other Objects, Editing HTML of text
Visit The illustrated eBook, Love Your Enemies, is a musical story of Jesus, written for my grandchildren to sing. »
---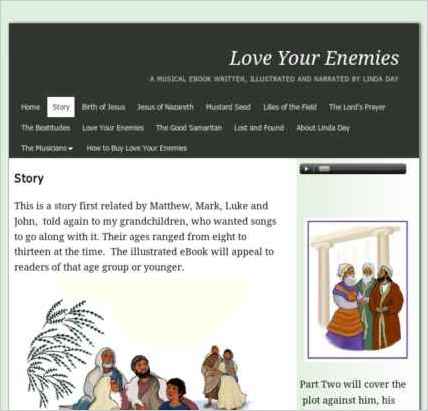 Describe your website.
My website is designed to introduce readers to the songs, story and illustrations from Part One of my narrated children's ebook, "Love Your Enemies." This book presents the life of Jesus of Nazareth in a very non-denominational way, through songs written for my grandchildren to sing in their home: Jesus of Nazareth, Over the Hills of Galilee, My Kingdom is a Mustard Seed, Lilies of the Field, The Lord's Prayer, The Beatitudes, Love Your Enemies, The Good Samaritan. Christopher LeCluyse (tenor) and Jenifer Thyssen (soprano) are accompanied by harp, flute and percussion.
Who is the target audience for your website?
I expect parents to be looking for educational eBooks for their children, especially at Christmas time. Many parents are not affiliated with churches, but would like their children to know the story of Jesus of Nazareth. Churches will also find this eBook to be a helpful reading and singing resource for children aged eight to thirteen. "Love Your Enemies" can develop a child's appreciation for vocal and instrumental music as well as for the book's colorful illustrations.
What is the advantage of your website over others?
Parents will find this eBook to be unique in that it combines background music by classically-trained artists, original songs with flowing lyrics, high-quality illustrations and a familiar story simply told. Its educational qualities will be obvious.
Tell us a story about this website.
The eBook, "Love Your Enemies" is brand new - to be released in late November, 2013. The website promoting it has been up for just a few days.
Why did you use this Sandvox design?
The "minty green" design had a well-balanced structure and colors that emphasized without conflicting with my illustrations.
What techniques did you use to build this website?
I already had a trove of illustrations, text and song lyrics; the layout consisted of arranging these to their best advantage. I used large illustrations in the center, small ones and photos on the right sidebar, and text where it complemented the overall layout. The musicians' photos were together on one page, then each had his/her own page. This worked nicely.
---
---
www.SandvoxSites.com/2848