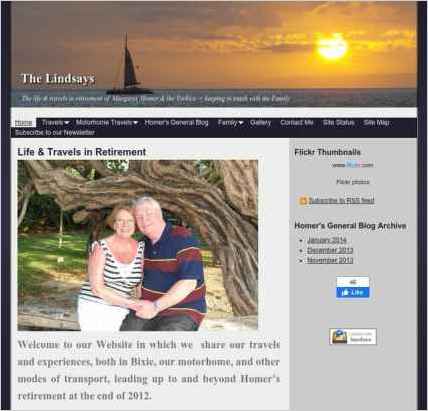 To build "The Lindsays," C. Lindsay chose Sandvox. She chose the "Imagine" design for the site. People may want to visit the site if they are looking for Motor caravanning Blog and campsites in Europe information.
Sandvox features used for this site:Blog, External Page, Photo Grid, Custom Collection Index, Site Map, Contact Form, RSS Feed Object, Editing HTML of text, Google Integration
---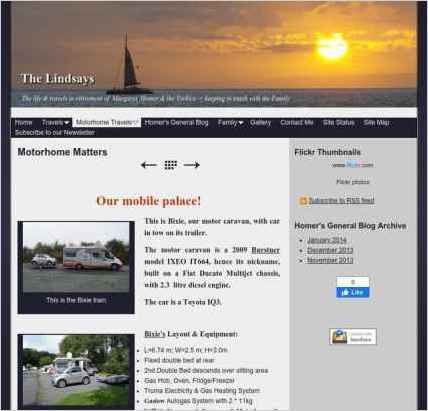 Describe your website.
The Life & Travels in Retirement of Margaret, Homer and the Yorkies; Homer's General Blog; Cancun 2012; Le Blanc Spa, Cancun; Motorhome Travels; Motorhome Matters; Our European Trip 2013; York; Cambridge; Villers-sur-Authie; Jumièges, Upper Normandy 21st-25th April 2013; Montsoreau 25th-28th April 2013; The Loire; Château Montsoreau; Château Samaur; St-Julien-des-Landes;
This site is a Blog, a travelogue, a motor caravanning information exchange and a family and friends communication medium as an alternative to Facebook and Twitter for a narrower group.
Who is the target audience for your website?
Friends and colleagues in UK, Germany, France, Italy, Hong Kong, US East Coast - Maryland & Delaware, US West Coast - Arizona & Oregon, Canada - London, Ontario. Fellow motorhomers and caravanners including members of The Caravan Club and Camping and Caravanning Club, people who like touring in UK and Europe. Family in Scotland, Northern Ireland, London Ontario and Des Moines, Iowa.
What is the advantage of your website over others?
This is not a business website.
Tell us a story about this website.
This website is too new for any such stories, yet! I'll let you know when something happens.
Why did you use this Sandvox design?
I used Imagine. Imagine it and make it possible! The banner suggests both travel and leisure as well as enjoyment in retirement (in the sunset of our lives).
What techniques did you use to build this website?
Flikr thumbnails; text box; block quote; indices, sharing buttons, sharing bar; contact form, IM status; list of external links; website login to Facebook and comment functionality; added host security to family section of website; e-mail links; archives; collections.
---
---
www.SandvoxSites.com/2853