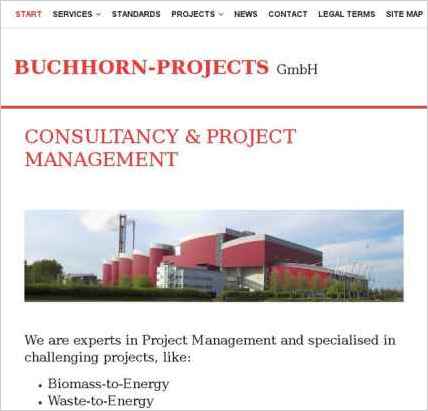 Sandvox was the choice for Bernd Buchhorn to build his website. He chose the "Blueball Slider Red" design for the site. People may want to visit the site if they are looking for Project Management and Consulting for Waste, Biomass to Energy.
Sandvox features used for this site:Photo Grid, Site Map
Visit Buchhorn-Projects GmbH »
---
Describe your website.
I [have been] working for 9 years as project-manager and consulting engineer on waste- or biomass-to-energy projects. On the website I present my experience, some of my key references, and my network.
Who is the target audience for your website?
While working on projects I meet quite a lot of people. Visiting the website, they can learn more about me.
What is the advantage of your website over others?
Compared to my competitors I am willing to work around the world with hands on the problems. I am more flexible than bigger companies, but I am also able to provide services from project identification to hand-over of the plant to the operator.
Tell us a story about this website.
My previous website was a bit old fashioned and I already got some positive remarks from clients and partners.
Why did you use this Sandvox design?
The Mezzanotte Red design is straightforward and presents my way of working.
---
---
www.SandvoxSites.com/2857