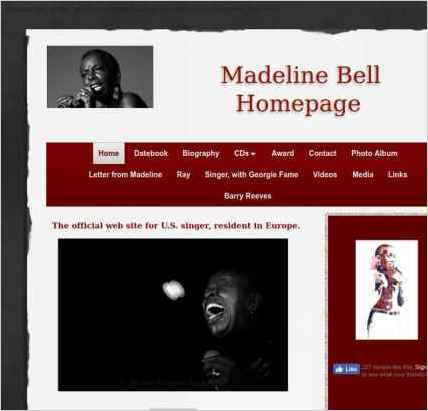 To build "Madeline Bell Homepage," Simon Bell chose Sandvox. He chose the "Outside the Lines Maroon" design for the site. People may want to visit the site if they are looking for singer Madeline Bell.
Sandvox features used for this site:Blog, Site Map, YouTube
Visit Madeline Bell Homepage »
---
Describe your website.
This is the homepage of U.S. singer Madeline Bell, who now lives & works in Europe. Famous for her hits I'm Gonna Make You Love Me, Melting Pot, and many others.
Madeline has also sung with most of the greats- The Beatles, Joe Cocker, Dusty Springfield, Stevie Wonder.
Who is the target audience for your website?
Fans of Soul music & jazz singers
What is the advantage of your website over others?
There is no competition. This is Madeline Bell's own site. I upkeep the site for her. This is the only personal Madeline Bell site.
Tell us a story about this website.
The re-design in Sandvox has gotten many compliments from visitors. Previously I had designed a very tired looking site built by myself. I'm not a professional but Sandvox make me look like one!
Why did you use this Sandvox design?
It looked, modern & classy
---
---
www.SandvoxSites.com/2856