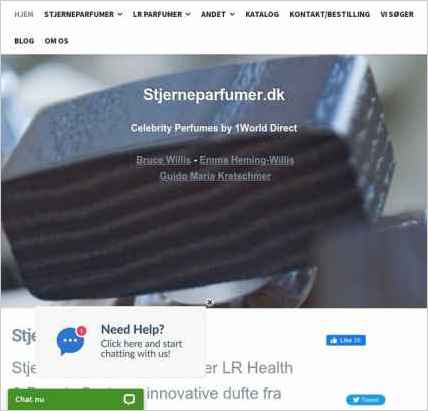 Sandvox was the choice for Lars Hansen to build his website for 1WorldDirect er uafhængig forhandler for LR Health & Beauty Sys. He chose the "Blueball Flexor Gray" design for the site. People may want to visit the site if they are looking for Stjerneparfumer fra bl.a. Bruce Willis, Heidi Klum.
marketing network celebrity lr parfume lr forhandler fragrance netværksmarkedsføring mlm jungle man bruce willis parfume lr produkter
Sandvox features used for this site:Blog, External Page, Site Map, Contact Form, YouTube, Editing HTML of text, Raw HTML Object, Code Injection, Google Integration
---
He entered his answers in Danish.
Describe your website.
Stjerneparfumer.dk giver information om vores stjerneparfumer fra Karolina Kurkova, Bruce Willis, Heidi Klum, Boris Becker, Ralf Moeller, Michael Schumacher og Marcus Schenkenberg.
Endvidere LR Parfumer som Desigen-duftene Jungle Man, Ocean Sky, Pseudonym og Heart & Soul og LR Classics duftene, som Antigua, Hawaii, Boston og Niagara
Who is the target audience for your website?
Som LR forhandler sælger vi parfumerne til private og samtidig søger vi forhandlere og forretningspartnere primært i Danmark, men også i resten af Skandinavien og Europa.
What is the advantage of your website over others?
Vi arbejder professionelt med vores forretning inden for skønhed og helse. Vi tilbyder vores samarbejdspartnere en unik mulighed gennem oplæring og støtte.
Tell us a story about this website.
Via vores website fik vi besøg af en der havde søgt på en opskrift på brownies ;-) Da hun så vores side blev hun dog hurtigt mere interesseret i vores produkter.
Why did you use this Sandvox design?
Designet Aqua har jeg valgt da det giver et enkelt og rent udtryk der matcher godt med de produkter vi tilbyder.,
What techniques did you use to build this website?
På stjerneparfumer.dk har vi bl.a. anvendt et automatisk chat system fra SnapEngage
---
---
www.SandvoxSites.com/2467