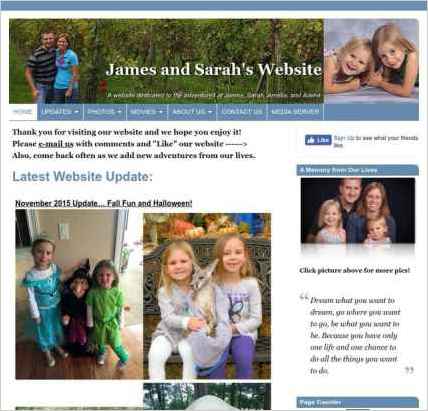 To build "James and Sarah's Website," James and Sarah LeBlanc chose Sandvox. They chose the "Earth & Sky Blue" design for the site.
James and Sarah's Website
(Website is no longer listed here.)
Sandvox features used for this site:Blog, External Page, Photo Grid, Custom Collection Index, Site Map, Contact Form, QuickTime Audio/Video, RSS Feed Object, Other Objects, Raw HTML Object, Code Injection
Visit James and Sarah's Website »
---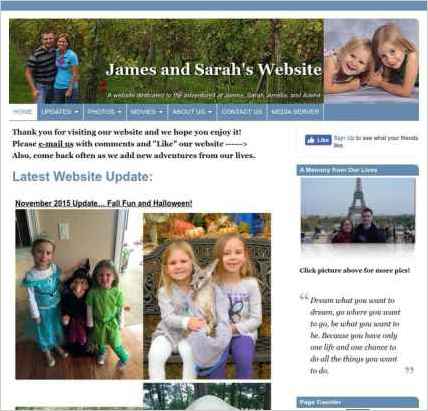 Describe your website.
A website dedicated to the adventures of James, Sarah, Amelia, and Alaina. The website contains pictures, movies, and blogs about experiences of our lives. We want to share our good memories with family and friends.
Who is the target audience for your website?
Our target audience for our website is close family and friends to remember our fun times together.
Tell us a story about this website.
The website started off as a way to convey our wedding information to family and friends when we became married. It quickly evolved from that into a full-blown website with pictures, movies, and blogs of our lives.
Why did you use this Sandvox design?
We used the "Earth & Sky Blue" Sandvox Design template for our website because of the simple, but elegant look to the site. We liked the light blue background color with the primarily white background behind the text. This allowed for more focus and emphasis on the words and pictures of the page and less focus on the colors.
What techniques did you use to build this website?
On our site, I created a html page within an html page in order to link an FTP website that I created to our main website. This allowed the FTP website to be found much easier. This can be seen at our "File Manager" tab of the website.
---
---
www.SandvoxSites.com/2466