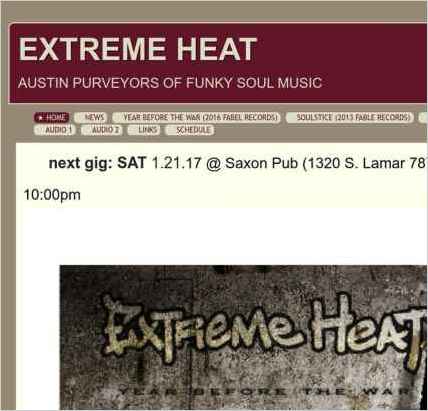 Michael Barnes used Sandvox to build this website. He chose the "Expansion" design for the site. People may want to visit the site if they are looking for austin funky music extreme heat, steamboat, armadillo.
Sandvox features used for this site:Photo Grid, YouTube, QuickTime Audio/Video, Code Injection
---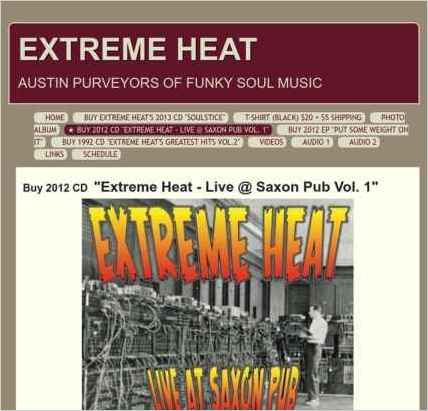 Describe your website.
Our goal is to reveal EXTREME HEAT's eclectic, funky, jazz, and rock influenced sound. EXTREME HEAT continues to entertain audiences with their funky 'old school' sound 35 years after their inception. We want to sell our CD "Extreme Heat Live at Saxon Pub Vol. 1" and we want people to buy our EP "Put Some Weight On It!"
Who is the target audience for your website?
Music lovers, specifically funky music lovers, from Austin, the state of Texas, the Southwest (Louisiana, Colorado), and men and women who attended the University of Texas, are the people who will be interested in this website.
Why did you use this Sandvox design?
"Expansions" highlighted and organized the best way Sandvox could offer.
---
---
www.SandvoxSites.com/2318