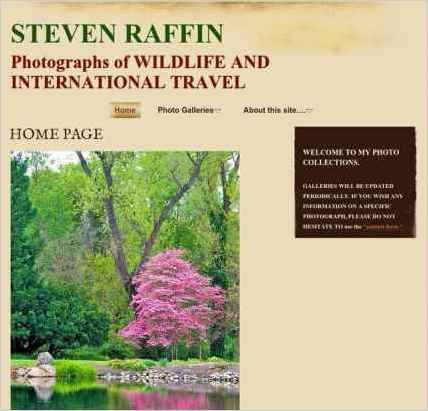 Sandvox was the choice for Steven Raffin to build his website. He chose the "Telegraph Office" design for the site. People may want to visit the site if they are looking for Worldwide travel and nature photos.
Sandvox features used for this site:Photo Grid, Site Map, Contact Form
Visit PHOTOGRAPHS OF WILDLIFE AND TRAVEL »
---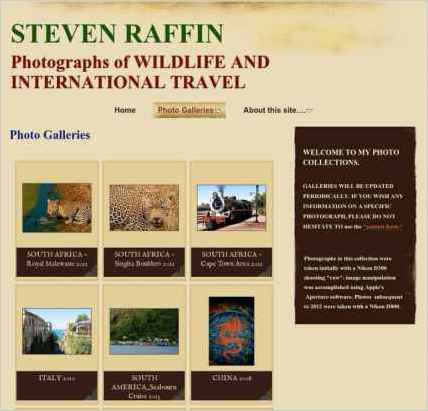 Describe your website.
The goal of my website is to display the best of my travel and nature photographs. The menu is simple, listing in reverse chronological order the countries we've visited with the respective photos: South Africa, Italy, China, Australia, New Zealand, Malaysia, East Africa....
Who is the target audience for your website?
The target audience for my website includes travelers, photographers, nature enthusiasts, field biologists, artists, and friends.
Tell us a story about this website.
When I first published my website, I was criticized as having created a dated product. I included a "counter" and was appropriately told to remove it and use the services of my web host. I did and am impressed with the abundant site data provided. I also was able to link pages in the website allowing for seamless viewing.
Why did you use this Sandvox design?
I liked it. What else can I say?
---
---
www.SandvoxSites.com/2356