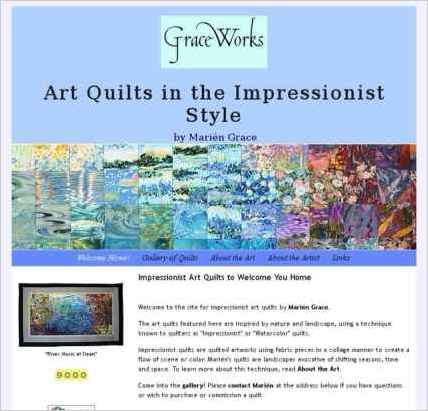 To build "Impressionist Quilts," Marien Grace chose Sandvox. She chose the "Dolphin Dance" design for the site. People may want to visit the site if they are looking for art quilts.
Sandvox features used for this site:Photo Grid, Contact Form, Other Objects
---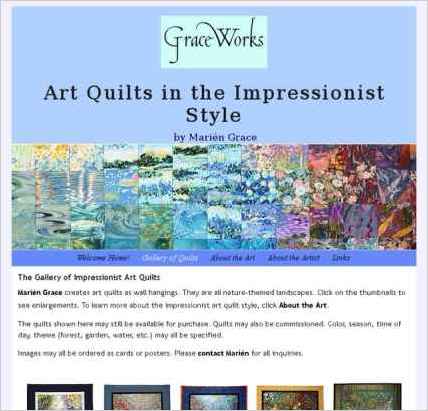 Describe your website.
Impressionist-Quilts.com was created to give an easily accessible web presence to the gallery of quilts of the art by Marién Grace. For those unfamiliar with this art form, the website has a page about the art that describes the technique used. Another page about the artist introduces Marién to the viewer. Hopefully this site will inspire people to enjoy this art form and perhaps to purchase a piece of their own.
Who is the target audience for your website?
Anyone wanting to look through a gallery of quilts for beautiful fabric artwork, or to learn about the art of impressionist quilts would enjoy browsing through my site. This could be quilters to interior decorators to art collectors, or anyone just needing something beautiful for their wall.
Tell us a story about this website.
Having this online presence is allowing the "long tail" of business to function for me. I am based in Petaluma California and I just got a sale from someone in Detroit Michigan. Never could have happened otherwise.
Why did you use this Sandvox design?
The template I am using allowed me to replace the banner with a detail from one of my quilts, personalizing the site appropriately. I am very very happy with it.
What techniques did you use to build this website?
I used the Rich Text pages, a Photo Album collection page, Photo pagelets that were buttons to other pages in the site; a Contact pagelet, and a page Counter so I can know how many times my site has been visited. It is thrilling and a mystery to me to see how many hits I've had!
---
---
www.SandvoxSites.com/159