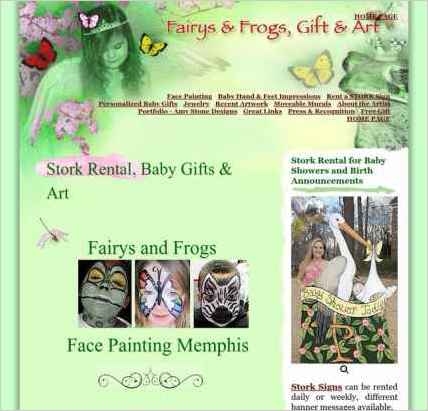 Amy Stone used Sandvox to build this website. She chose the "FairysFrogs" design for the site. People may want to visit the site if they are looking for Stork Rental or Rent a Stork in Memphis, TN.
Visit Rent a Stork, Gift & Art »
---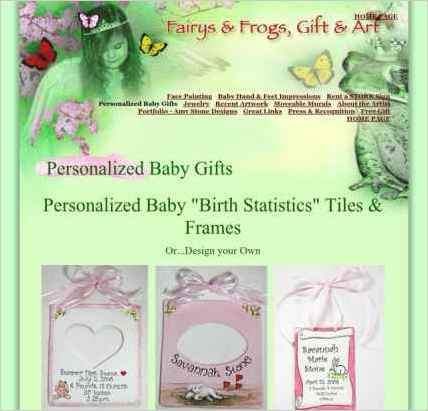 Describe your website.
My Stork Rental section of my website is supposed to appeal to pregnant women. The gift and art section of my website could interest anyone, but mainly people with children. I offer Personalized Baby Gifts, Baby Hand and Feet Impressions, Pottery Crosses and Stars of David, Pottery Knobs and drawer pulls, unique handmade pottery, movable murals and window paintings.
Who is the target audience for your website?
The stork rental section of my website "Rent a Stork, Gift and Art" targets pregnant women in Memphis, Collierville, Germantown, Cordova, Oakland and Piperton, TN, plus Olive Branch and Byhalia, MS. The gift and art section of my website is for anyone interested in unique, one of a kind gifts and pottery.
Tell us a story about this website.
When I had my first baby, my mother in law rented a stork for my yard. I was touched, but the stork was hideous. I determined then and there I could make a better one and make this business a success. God gave me the talent of painting and I used it. So far, everyone who has rented my stork has LOVED it.
Why did you use this Sandvox design?
The "Branching Out" design is perfect for my website. It has a fun, childish, earthy feel to it and I love it.
---
---
www.SandvoxSites.com/158