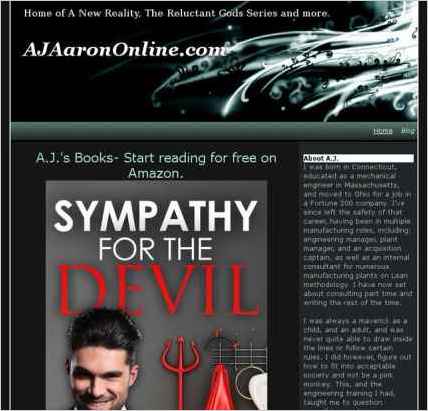 A.J. Aaron used Sandvox to build this website. He chose the "Night Breeze" design for the site. People may want to visit the site if they are looking for Reluctant Gods, Reluctant Gods II- The Demon Seth, A New Reality.
Sandvox features used for this site:Photo Grid, Site Map
---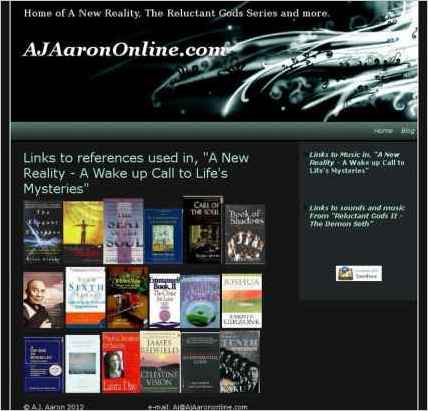 Describe your website.
A.J. Aaron Online.com is a website to show all the nonfiction and fiction works of A.J. Aaron. It provides links to all the available distribution such as Kindle and Amazon, descriptions of the paranormal fiction, fantasy fiction, humorous fiction and spiritual non fiction. The titles currently include A New Reality - A Wake Up Call to Life's Mysteries, Reluctant Gods, and Reluctant Gods II - The Demon Seth. It has links to references used in the books, links to music used in the books, quotes, and a site map.
Who is the target audience for your website?
The target audience will be people of any age with an open curious mind set. Those that are willing to break old paradigms in order to live a better life. Also, for those looking to have entertaining, outside the box stories to read.
What is the advantage of your website over others?
This website is a much cleaner, more professional and an easier to navigate site than others I have seen so far. I'm very pleased with it.
Tell us a story about this website.
When the people that knew me saw this website over the last one they finally realized that I truly do make my living as a writer now. The old website just didn't leave that impression to them or to strangers.
Why did you use this Sandvox design?
The design chosen suits the nature of the books for sale as it has rising cathedral-like ceilings and a somewhat gothic appearance.
---
---
www.SandvoxSites.com/2387