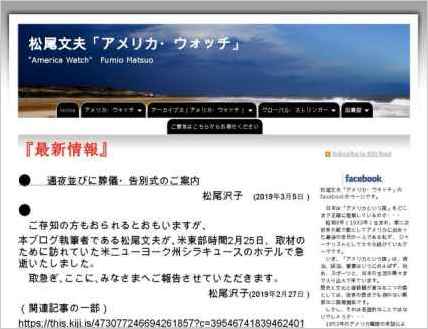 Sandvox was the choice for Fukuo Kimura to build his website for "America Watch" Fumio Matsuo. He chose the "Blueball Pro Tabs Gray Wide" design for the site. People may want to visit the site if they are looking for Fumio Matsuo.
Sandvox features used for this site:Blog, External Page, Photo Grid, Contact Form, Amazon.com, YouTube, QuickTime Audio/Video, RSS Feed Object, Other Objects
---
He entered his answers in Japanese.
Describe your website.
It is the main purpose to report Mr. Fumio Matsuo's American Studies to a fan's people.
Who is the target audience for your website?
They are people who are interested in the relationship of the people, the United States, and Japan, who know Mr. Fumio Matsuo, who is a journalist.
Tell us a story about this website.
Mr. Fumio Matsuo's site [has been active] for about five years and although some site construction applications have been used, I think in the meantime that Sandvox [enabled a] the very good site to be made.
Why did you use this Sandvox design?
It is an easy-to-use thing etc. for which a design can be changed easily.
---
---
www.SandvoxSites.com/2398