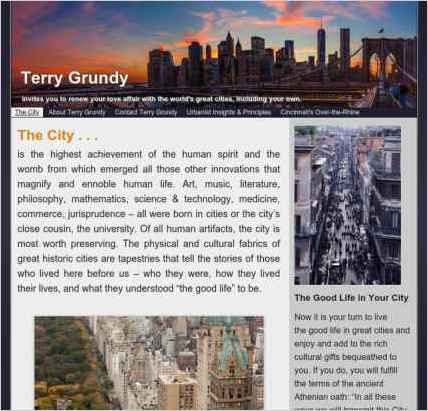 Sandvox was the choice for Terry Grundy to build his website. He chose the "Imagine" design for the site. People may want to visit the site if they are looking for Cities, Historic Cities, Urbanism.
Sandvox features used for this site:External Page, Site Map, Contact Form, QuickTime Audio/Video, Google Integration
---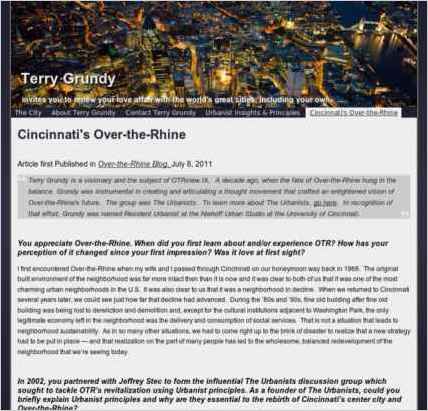 Describe your website.
The purpose of this website is to remind its visitors that the city is the highest achievement of the human spirit and the human artifact most worth preserving. It seeks to rekindle people's appreciation for great, historic cities and enlist their support for efforts to revitalize those cities. It teaches people the core principles of Urbanism and shows how the application of those principles has resulted in the remarkable revitalization of Cincinnati's historic Over-the-Rhine neighborhood.
Who is the target audience for your website?
The target for this website is people who understand and appreciate cities and city life. It is especially designed to appeal to those demographic groups that are returning to cities, especially young professionals, empty nesters, members of the "Bohemian cluster," and New Americans (immigrants).
Tell us a story about this website.
I am a university professor and tell my students about the website. At the beginning of each academic term, there is a huge spike in hits to the website. I can tell that many students read its content closely because they often approach me wanting to discuss the issues and principles raised in the website. For reasons that aren't quite clear to me, a great many visitors to the website are from Europe and Japan.
Why did you use this Sandvox design?
The design I chose appealed to me because it has a sort of moody elegance. It provides a good framework for text and pictures of urban scenes from around the world.
What techniques did you use to build this website?
Like all website-building software for amateurs, Sandvox has features that balance ease of use with creative constraints. This is the inevitable trade-off, it seems. I considered other applications but settled on Sandvox because it seems to provide its users with a bit more creative freedom that the others.
---
---
www.SandvoxSites.com/2395