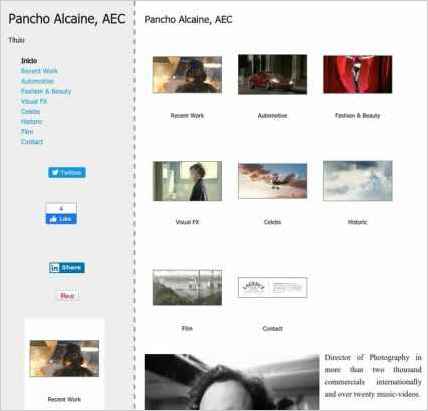 Pancho Alcaine Bartolome used Sandvox to build this website. He chose the "Dashed" design for the site. People may want to visit the site if they are looking for Director of Photography in commercials and film.
Sandvox features used for this site:Site Map, QuickTime Audio/Video, Editing HTML of text, Raw HTML Object
--- Describe your website.
Commercial and film reel from my work as a cinematographer and Director of Photography. Works include several commercials and project filmed and shot around the world for the last 20 years.
Filming Showreel and reel divided on recent work, automotive, fashion and beauty, historic and film and motion pictures.
Direct link to my agent and representative.
Who is the target audience for your website?
Film Production companies. Advertising Production companies. Commercial Production companies. Advertising Agencies. Film producers. Commercial producers. Advertising producers. Film Directors. Commercial Directors. Advertising Directors. Film executive producers. Commercial executive producers. Advertising executive producers.Commercial Art Directors. Advertising Creative Directors.
What is the advantage of your website over others?
My website features a showreel with different webpages on recent work commercials, automotive commercials, fashion and beauty commercials, historic commercials and film and motion picture work.
Why did you use this Sandvox design?
Clean sheets design. Simple and direct.
---
---
www.SandvoxSites.com/2393