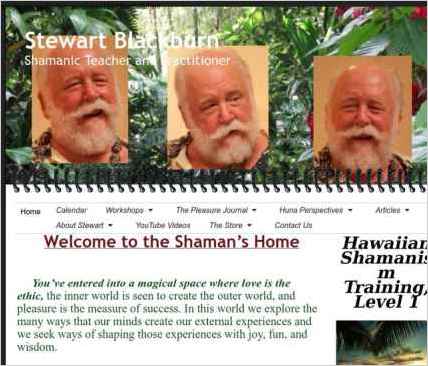 Stewart Blackburn used Sandvox to build this website. He chose the "KS My Life" design for the site. People may want to visit the site if they are looking for pleasure, shamanism, Huna, power of pleasure.
Sandvox features used for this site:Blog, External Page, Site Map, Contact Form, RSS Feed Object, Raw HTML Object, Code Injection, Google Integration
Visit Stewart Blackburn, Shaman of Pleasure »
---
Describe your website.
This website is about using pleasure as a spiritual path by understanding the nature and power of pleasure. It also explores the shamanic path of Huna, a path that is about self-empowerment and joy. There are many articles, audios, and videos about pleasure and Huna, particularly around The Seven Skills of Pleasure.
Who is the target audience for your website?
This website is directed towards those who are looking for a well-grounded spiritual philosophy that works, and works very well! This is about very practical spirituality: how we use our deeper levels of Self to craft the lives we desire.
What is the advantage of your website over others?
This website is not intended to tell anyone how to live. It is about developing skills to explore life in exciting and fulfilling ways. It is always open to other people's ideas and feelings. It is an attempt to share the adventure of life with others at a very deep level. At that level we do it for the fun of it!
Tell us a story about this website.
My website has brought me into connection with a bunch of wonderful, amazing people. I love how I can live in the jungle on the side of one of the world's most active volcanoes and touch and be touched by soulful people around the world!
'
Why did you use this Sandvox design?
I liked it because it was pleasantly informal.
---
---
www.SandvoxSites.com/2420