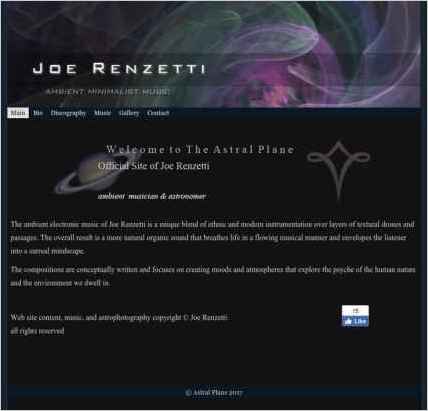 Joe Renzetti used Sandvox to build this website. He chose the "Wall" design for the site. People may want to visit the site if they are looking for Ambient Music and Astronomy.
Sandvox features used for this site:Photo Grid, Contact Form, QuickTime Audio/Video, Editing HTML of text, Raw HTML Object, Code Injection, Google Integration
---
Describe your website.
The Astral Plane features the ambient electronic music of Joe Renzetti with MP3 streaming music and CDs. Also features astrophotography of nebulae, galaxies, star clusters, and planets.
Who is the target audience for your website?
Fans of ambient atmospheric music and astronomy buffs.
What is the advantage of your website over others?
The web site is designed for simplistic viewing with MP3s played live on a built-in playlist with access to digital downloads and CDs for sale. It flows easily and compatible with all browsers and computer platforms. The astrophotography is nicely cataloged by types of deep sky objects with an interactive slide show.
Why did you use this Sandvox design?
I've been making web sites for 17 years. I've used many programs such as Pagemill, GoLive, Flash, Photoshop, and iWeb. With the demise of iWeb, I wanted a new site built without the usual time consuming coding and scripting I did in the old days. Sandvox fit that need perfectly. My site is based on the Wall template which gives it a nice balance of science & art. Using various enhancements from the raw html editor I could tweak the design as needed without adding a lot of unnecessary junk code making it fast, stylish, and visually aesthetic.
What techniques did you use to build this website?
The MP3 player was was compiled using Podsnack and inserted as raw html. Each astrophoto was individually edited and optimized for the gallery slideshow which gives optimum detail without using excessive bandwidth.
---
---
www.SandvoxSites.com/2480