Sandvox was the choice for Soteris and Mary Ann Roussi to build their website. They chose the "Smooth Dark" design for the site. People may want to visit the site if they are looking for Abstract expressionist paintings using acrylic and powdered pigm.
Sandvox features used for this site:Blog, External Page, Photo Grid, Custom Collection Index, Site Map, Contact Form
Visit Artist, Painter, Soteris Sam Roussi »
---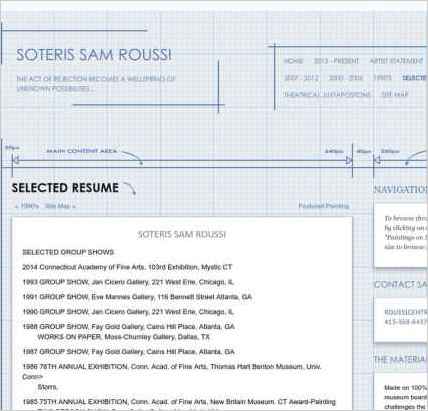 Describe your website.
For me, mark-making, rejecting, over-painting, scraping, scratching and burnishing the painted surface generates visual issues. Each painting emerges organically as I literally draw with paint. The initial random marks gel into clusters of rendered dilemmas, entanglements, melees of forms, that can be raw, disturbing, visceral, and universal, aimed at the collective unconscious.
Who is the target audience for your website?
I seek art collectors, and enthusiasts, open minded and artists seeking inspiration.
Tell us a story about this website.
My site provided the opportunity to compete and be selected for:
CIRCLE FOUNDATION FOR THE ARTS
Winter 2018 Issue
Circle Quarterly Art Review
Artist of the Year 2018
Honorable Mention: High Aesthetic, Technical and Creative Standard
https://circle-arts.com/
---
---
www.SandvoxSites.com/2461