Sandvox was the choice for Mary Ann and Soteris Sam Roussi to build their website. They chose the "Smooth Dark" design for the site. People may want to visit the site if they are looking for Abstract artist with work for sale.
Sandvox features used for this site:Blog, Photo Grid, Site Map, RSS Feed Object, Editing HTML of text, Google Integration
---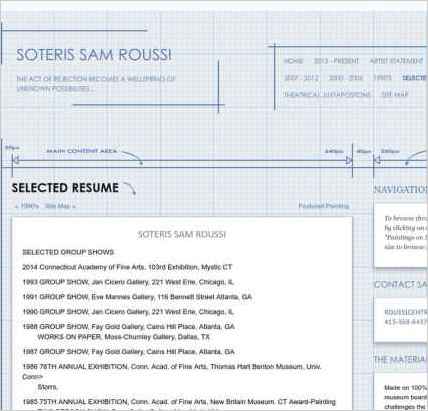 Describe your website.
This site has featured paintings of Soteris Sam Roussi's abstract art with Sam's space blog and artist statement. Soteris Sam Roussi feels that the act of rejection becomes a wellspring of unknown possibilities. Contact Sam to learn more about the materials he uses, pricing, and how to visit his studio.
Who is the target audience for your website?
This site will interest art collectors, museum, galleries, and other artists, especially abstract artists of all ages.
Tell us a story about this website.
Sandvox is a very straightforward site for building webpages. It is intuitive and has a number of designs from which to choose. I change the look of my site every year.
Why did you use this Sandvox design?
The minimalist design with dark background compliments Soteris Sam Roussi's brash abstract mark making.
---
---
www.SandvoxSites.com/2461