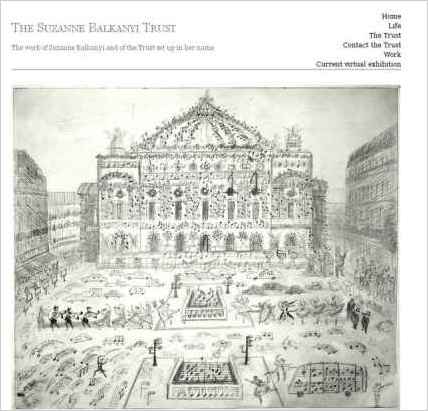 Alan Sekers used Sandvox to build this website. He chose the "Minimalist" design for the site. People may want to visit the site if they are looking for buying prints or studying 20th century printmaking.
Sandvox features used for this site:Photo Grid, Site Map, Contact Form
Visit The Suzanne Balkanyi Trust »
--- Describe your website.
The Suzanne Balkanyi Trust website is designed to bring her work to a larger audience by means of virtual exhibitions: the current virtual exhibition covers fifty years' work. The goal of the trust is to sell the work and give the proceeds in their entirety to young printmakers.
Who is the target audience for your website?
The website should be of interest to discriminating art collectors, art historians specialising in twentieth century European art, teachers of illustration and printmaking, and printmakers themselves.
What is the advantage of your website over others?
The advantage online over printed artist's catalogues raisonné, is that they can be updated as new information becomes available.
Tell us a story about this website.
Sandvox allowed me to concentrate on the content and the user experience. Designing the site made me realise how much my old students had taught me.
Why did you use this Sandvox design?
I chose this design because it was simple and elegant, and -- I hoped -- easy to customise.
---
---
www.SandvoxSites.com/2435