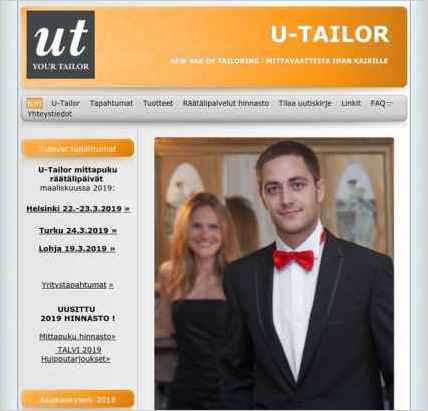 Sandvox was the choice for Janne Schoultz to build his website. He chose the "This Modern Life" design for the site. People may want to visit the site if they are looking for Tailor made clothing, suits, pants, jackets, shirts, coats.
Sandvox features used for this site:Blog, External Page, Contact Form, Other Objects, Editing HTML of text, Raw HTML Object, Code Injection, Google Integration
---
Describe your website.
In 1999 on my trip to Bangkok I stayed over one night and made some clothes for myself. From here I got a business idea... why not import the tailor himself to Finland, where I live? My first pages were made with some free S/W, then FrontPage was a great jump hereafter came iWeb. Then finally, Sandvox.
Who is the target audience for your website?
I have imported the tailor for almost 15 years. My customers are men and women, any age or race, students and business people - everybody needs clothes; my customers want to go a step further and have the clothes made for them.
What is the advantage of your website over others?
As Sandvox does not use any flash - pages are fast, easy to use, informative and even look pretty good. Lots of pictures.
Tell us a story about this website.
This was my first web-based business. I was surprised how well it worked out. Now we have thousands of customers who bring new ones and the web does all the work for me.
What techniques did you use to build this website?
Ken Burns slide show (3rd party). As I am not a core writer, this sure was difficult to do.
---
---
www.SandvoxSites.com/2410