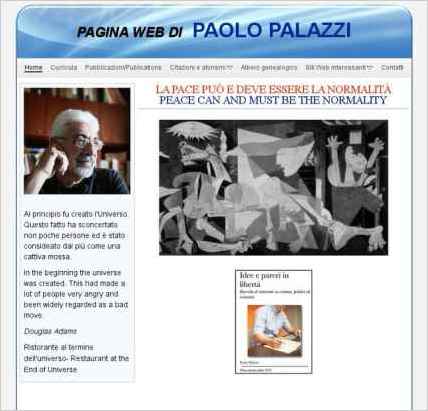 Palazzi Paolo used Sandvox to build this website. He chose the "Cirrus" design for the site. People may want to visit the site if they are looking for Economics, politics, italian politics.
Sandvox features used for this site:Blog, External Page, Photo Grid
Visit Paolo Palazzi Web Page »
---
Describe your website.
Personal information, publications (papers and books) for download. Citations of different arguments.
Informazioni personali, le mie pubblicazioni, libri e articoli, che si possono scaricare liberamente-
Citazioni di vari autori su argomenti diversi
Who is the target audience for your website?
Mainly Italian language people. Academic people, economists, and people interested in Italy.
Persone interessate ad argomenti di economi e politica.
Tell us a story about this website.
È il secondo sito web costruito da me, il primo era stato giudicato una schifezza, spero che con l'aiuto di Sanvox questo sia migliore.
This is the second web site I did, the first was judged ugly. I hope this one, with Sandvox's help, will be better.
Why did you use this Sandvox design?
---
---
www.SandvoxSites.com/2402