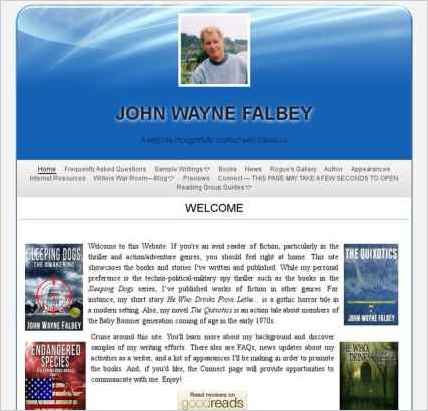 Sandvox was the choice for John Wayne Falbey to build his website. He chose the "Cirrus" design for the site. People may want to visit the site if they are looking for techno-political thrillers in the David Baldacci-Brad Thor-Vince.
Sandvox features used for this site:Blog, Photo Grid, Contact Form, Other Objects
Visit Sleeping Dogs: The Thriller »
---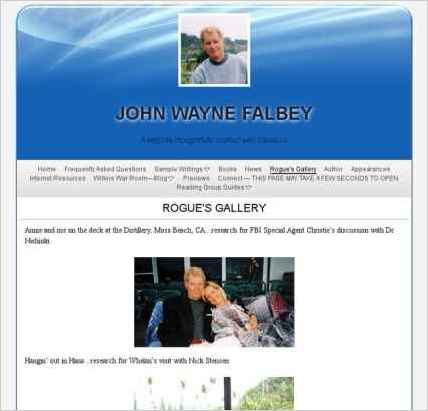 Describe your website.
My website focuses on my techno-political thrillers about a special ops unit countering the subversive efforts of a foreign entity that has succeeded to the resources implanted by the former Soviet Union. It involves the latest in genetics, communications technology, weaponry, and the toys of the rich and powerful. The CIA, FBI, NSA and other inside-the-Beltway players are featured.
Who is the target audience for your website?
People who enjoy reading good thrillers with frightening, yet plausible scenarios will enjoy the website. Followers of writers such as David Baldacci, Vince Flynn, Alex Berenson, Ben Coes, and Brad Thor will enjoy the site. There also is a short story in the Edgar Allen Poe, Stephen King, H.P. Lovecraft style is on the site.
What is the advantage of your website over others?
This website is less cluttered and more user friendly than competitors' websites.
Tell us a story about this website.
Those who have seen this website in comparison to the previous one done on iWeb are amazed at the improvement.
Why did you use this Sandvox design?
The site's design is based on the cover and context of my novel Sleeping Dogs: The Awakening.
What techniques did you use to build this website?
I incorporated some materials from a former version of the site on iWeb. I also created a Rogue's Gallery for photos, a News section in place of the typical blog, and a section for posting samples of my writing efforts.
---
---
www.SandvoxSites.com/2221