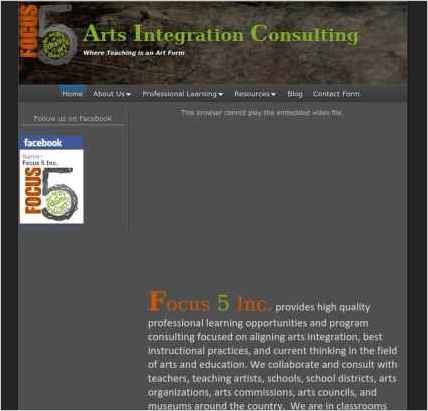 To build "Arts Integration Consulting" for Focus 5 Inc., Sean Layne chose Sandvox. He chose the "Smooth Dark" design for the site.
Arts Integration Consulting
(Website is no longer listed here.)
Sandvox features used for this site:Blog, Podcast, External Page, Photo Grid, Custom Collection Index, Contact Form, QuickTime Audio/Video, Raw HTML Object
Visit Arts Integration Consulting »
---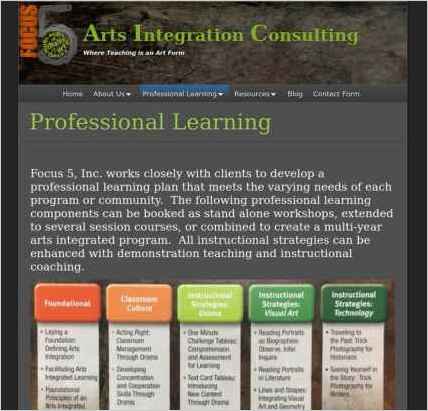 Describe your website.
Our website includes multiple professional development workshops based on arts integration such as documenting student learning through the arts, defining arts integration, acting right: drama as a classroom management strategy, reading portraits as biographies, and writing poetry based on art. The site also shares information about the consultants in our company, our approach to teaching, and summer teacher institutes based in arts integration.
Who is the target audience for your website?
The target audience for our site is elementary school teachers, middle school teachers, school and district administrators, arts organizations, teaching artists, and arts specialists.
What is the advantage of your website over others?
Our website has an advantage over other sites because it provides comprehensive information on the myriad of professional development opportunities we can provide. In addition, it is also a place where educators can purchase the resources they need to support their teaching, or link to other valuable resources on the internet.
Why did you use this Sandvox design?
As an arts-based consulting firm, we were looking for something that had a clean, artistic edge to it--something that would convey the creativity that our company embodies.
---
---
www.SandvoxSites.com/2097