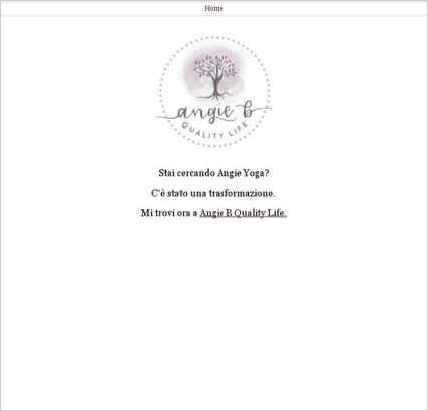 Sandvox was the choice for Angelina Brazzale to build her website for Moksha. She chose the "Clean Sheets" design for the site. People may want to visit the site if they are looking for Yoga in Italy.
Sandvox features used for this site:Blog, Contact Form, YouTube, RSS Feed Object
---
Describe your website.
My website is about the transformational potential of yoga. It is to inform people about my Vinyasa Yoga courses, but also to share how my own practice is influenced by Iyengar, Ashtanga, Dynamic and Flow, as well as Zen Buddhist meditation. Yoga is a way of life, and my blog will reflect my research, discoveries, intuitions and creations regarding spirituality, poetry, nutrition, healing, and what it means to be human.
Who is the target audience for your website?
Locally, my target audience is people in my area who are searching - for a physical practice, for mental clarity and calm, for a deeper connection to their Inner, to their Self. On a wider scale, I would be delighted if my site reaches out to people globally, and contributes to the positive evolution of humanity, and the universe.
What is the advantage of your website over others?
My website is clear - I chose the template for this reason - the essential information about who I am and what I am doing is easy to find. So many websites are a maze of drop-downs, accordians, pages hidden behind pages, and I don't want my site to be like that. It's also personal, not sterile, reflecting my approach to teaching and to life.
Why did you use this Sandvox design?
Clean Sheets was the obvious and immediate choice for me. I loved the simplicity, the purity of the design, the sense of space - exactly what I was looking for. Sandvox is brilliant, it's a complete love affair.
What techniques did you use to build this website?
I'm not that clever yet with the techniques and the tools that are available with Sandvox... but I will be!
---
---
www.SandvoxSites.com/2098