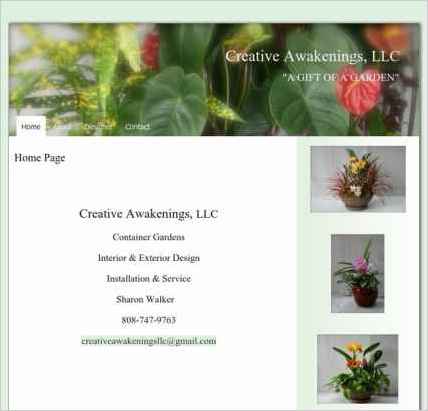 Ric Wirick used Sandvox to build this website. He chose the "Minty Fresh" design for the site. People may want to visit the site if they are looking for Container Gardens on the Big Island of Hawaii.
Visit Creative Awakenings, LLC »
---
Describe your website.
"A Gift of a Garden"
Creative Awakenings, LLC, offers an assortment of stunning plants and flowers carefully arranged in a variety of pots -- Container Gardens.
We are dedicated to keeping business local; we hand-select all of our plants from local plant nurseries. Our experienced design team utilizes many different types of Hawaii island grown orchids, from the graceful Phalaenopsis to the showy, broad-flowered Cattleyas to the delightfully sweet-smelling Sharry Babies. Bromeliads, Anthuriums and Colocasia are other favorites that we choose in our designs. Crotons, Begonias, Ipomoea, Alocasia, ivys, and ferns (to name just a few) are other favorites that add depth and dimension to your customized Container Garden(s). Top off the arrangement with a selection of mosses, bamboo sticks, or other complementary accessories.
Our Container Gardens are a great way to enjoy all the beauty of your own personal garden. We are confident that you will discover a Container Garden that will amuse and tickle your senses with their fragrances, textures, and stimulating palettes. Whether you are looking for a touch of elegance, a feeling of relaxation, or an expression of warm welcome, color in a container will create an expression of that mood in both your interior and exterior space.
Creative Awakenings, LLC. also offers a weekly Maintenance Program to provide you with worry free maintenance. We are trained to keep your plants looking their best.
Weekly visits include watering, cleaning and dead-heading spent plant blooms, pruning back foliage, fertilizing and replace plants as needed for each Container Garden.
Who is the target audience for your website?
For anyone on Hawaii island, the Big Island of Hawaii -- let us help you make your individual spaces (home, business, lanai, etc.) even more stylish and inviting with one or more of our eye-catching arrangements made up of an array of vibrant blooming and lush foliage plants displayed in the container of your choice.
Time and time again, our Container Gardens have proven to be delightful gifts for parties, holidays, and house warmings and they are ideal way to send a visual representation of your love or regard to someone special.
What is the advantage of your website over others?
This website will provide an online reference to our products and services. And in-turn allow us to reach a greater number of prospective clients on Hawaii Island, the Big Island of Hawaii.
Tell us a story about this website.
This website should help create more sales, service and maintenance programs for our business.
Why did you use this Sandvox design?
This design worked the best for our application.
What techniques did you use to build this website?
Once again, for us it was most helpful for us to watch, review and follow the Sandvox video tutorial for Mac. It allowed us to build and publish the site quickly.
---
---
www.SandvoxSites.com/2069