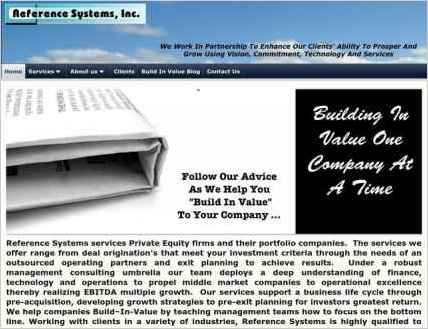 Rand Mark Manasse used Sandvox to build this website. He chose the "KS Big Time Blue" design for the site. People may want to visit the site if they are looking for Management Consultants, Transition Management, Change Agents.
Sandvox features used for this site:Blog, Site Map, Contact Form
Visit Reference Systems, Inc. »
---
Describe your website.
On our web site Reference Systems describes how we are an integrated service firm centered around the concept that the services we offer must support our mission to "Work in partnership to enhance our clients' ability to prosper and grow using vision, commitment, technology and services"
Services offered include management consulting, project management, turnaround management,, transition management, technology service offerings, financial service offerings, operational service offerings
Who is the target audience for your website?
Business owners with issues that need to be resolved. Profits are down and financial risk of failing is high. Our turnaround consulting can help them become profitable and strategic planning can lead to a bright future.
What is the advantage of your website over others?
We are a boutique consulting firm offering one on one services tailored to the clients unique vision.
---
---
www.SandvoxSites.com/2072