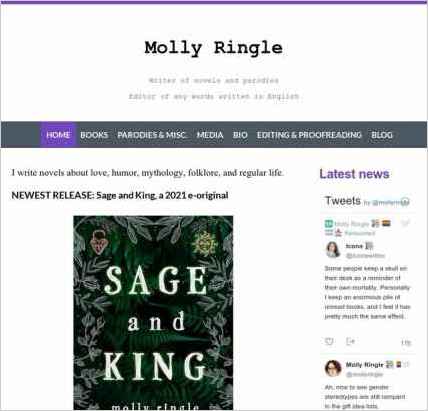 Molly Ringle used Sandvox to build this website. She chose the "Blueball Simplex Purple" design for the site. People may want to visit the site if they are looking for writing humor fiction.
Sandvox features used for this site:External Page, Editing HTML of text, Raw HTML Object
---
Describe your website.
My website lists all my novels and provides excerpts from them, and also collects my parodies and other writing projects in one place for people to enjoy.
Who is the target audience for your website?
My site is ideal for those who enjoy reading fiction and humor, and for those with strong fandom devotion to certain books and films, such as The Lord of the Rings and Harry Potter.
What is the advantage of your website over others?
My website has a clean design that should be easy to read, making it fun and simple to navigate, without confusing people looking for a particular title.
Why did you use this Sandvox design?
I wanted one of the cleanest, least confusing designs available--a lot of white space and easy-to-read menus. I'm quite happy with the one I chose. As a plus, the orange in it matches the shade in one of my book covers almost exactly.
What techniques did you use to build this website?
The email contact form wasn't working right for me, so I inserted the raw HTML of the contact form I'd been using in my previous version of my pages. Seems to look all right and works!
---
---
www.SandvoxSites.com/2288