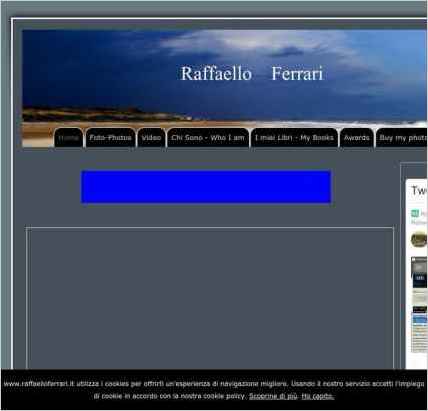 To build "Fotografia News," Ferrari Raffaello chose Sandvox. He chose the "Mezzanotte" design for the site. People may want to visit the site if they are looking for Notizie, novità, recensioni e curiosità dal mondo.
Sandvox features used for this site:Blog, Photo Grid, Editing HTML of text, Raw HTML Object, Code Injection, Google Integration
---
He entered his answers in Italian.
Describe your website.
Ho costruito questo nuovo sito come Blog riguardante le ultime novità, le notizie,le curiosità del mondo della fotografia digitale...e non solo: c'è anche una parte dedicata alla storia e sviluppo della fotografia digitale, un argomento che ancora è poco trattato ( nonostante i grandi passi avanti della tecnologia,il digitale è sempre molto giovane!! ).
Who is the target audience for your website?
Tutte le persone che si interessano della fotografia digitale e della tecnologia che ci sta dietro: fotografi professionisti e/o semplici appassionati.
Why did you use this Sandvox design?
Ho scelto Sandvox per la semplicità con cui posso gestire il sito come Blog.
What techniques did you use to build this website?
Prima usavo scrivere delle parti in javascript per personalizzare il sito..adesso, con Sandvox, non ne ho più bisogno. In ogni caso è davvero semplice integrare le parti in javascript/HTML in Sandvox.
---
---
www.SandvoxSites.com/2292