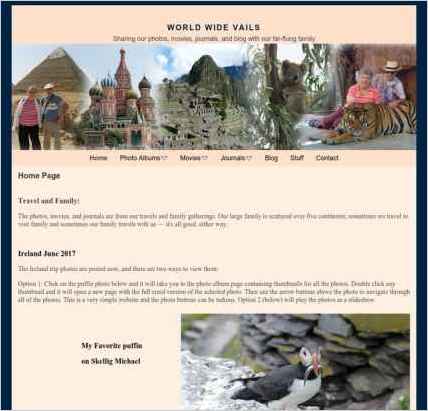 Sandvox was the choice for Ginny Vail to build her website. She chose the "Clockwork Blue" design for the site. People may want to visit the site if they are looking for Things to see and do in San Francisco.
Sandvox features used for this site:Blog, Photo Grid, Custom Collection Index, QuickTime Audio/Video, Raw HTML Object
---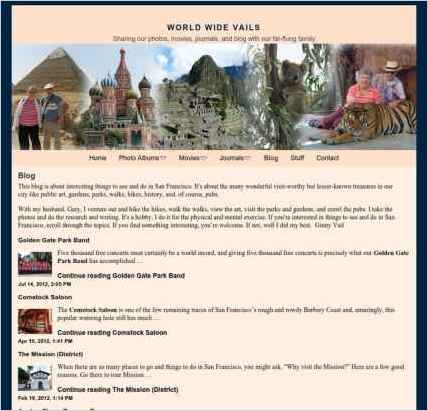 Describe your website.
My website has a blog about interesting things to see and do here in San Francisco. The blog is a hobby that provides me with excellent physical and mental exercise and provides useful information to others interested in San Francisco.
My website also has photos, movies, and journals from our travels and family gatherings. These are things I wish to share with family and friends.
Who is the target audience for your website?
For my blog about San Francisco, the target audience is anyone living here or visiting here who is looking for information about things to do.
My photos, movies, and my husband's travel journals are primarily for our family. Some of my travel photos are also of interest to fellow travelers, and I will soon add photos from trips to Peru, China, Russia, and the Rhine River.
Why did you use this Sandvox design?
I chose the design Clockwork Blue because it has a banner across the top and it's simple and uncluttered.
What techniques did you use to build this website?
One of my blog entires is about parades in San Francisco and I have four short videos representing each of the four major parades (Chinese New Year, St. Patrick's Day, Bay-to-Breakers, and Carnaval. I posted the videos on Photobucket and then embedded them in the blog with Raw HTML.
---
---
www.SandvoxSites.com/2140