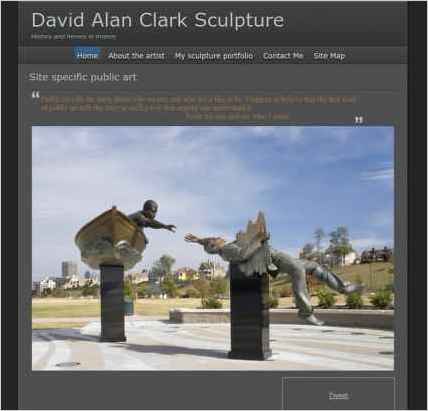 Sandvox was the choice for David and MJ Clark to build their website. They chose the "Smooth Dark" design for the site. People may want to visit the site if they are looking for Figurative bronze sculpture, portraits, public art.
Sandvox features used for this site:External Page, Photo Grid, Site Map, Contact Form, YouTube, Google Integration
Visit www.davidalanclark.com »
---
Describe your website.
Most of David's sculpture has been commissioned public monuments featuring local heroes - human and animal! Our website presents his work to the world: known figures like John Wesley Powell or a mascot like the University of Memphis' tiger. His work is traditional figurative bronze - but it works in a variety of modern settings.
Who is the target audience for your website?
David sculpts for municipalities, corporations, and private individuals across the country who are interested in classic sculpture that has timeless appeal. Most of his work is site-specific and one of a kind.
What is the advantage of your website over others?
David works with his clients to ensure that the sculpture he creates fits their needs and desires. He is very approachable and has no 'artistic attitude.' He is interested in collaborating with his clients because this is the best way to create the most meaningful sculpture for a specific place.
Why did you use this Sandvox design?
The matte grey background does not fight with the images - and our site is all about the work depicted in the photographs. Also - the sans serif typeface is simple and not distracting.
---
---
www.SandvoxSites.com/2116