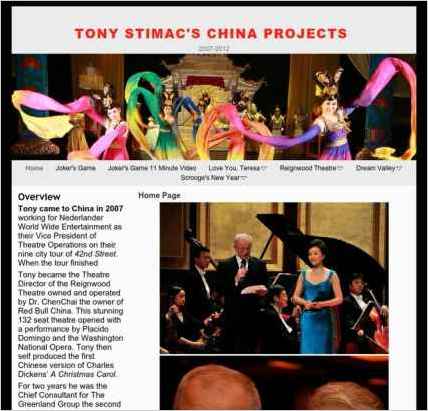 To build "Tony Stimac's China Projects" for Musical Theatre Works International, Anthony Stimac chose Sandvox. He chose the "Clockwork Grey" design for the site. People may want to visit the site if they are looking for Chinese musicals, musicals in China, Joker's Game.
Sandvox features used for this site:External Page, Photo Grid
Visit Tony Stimac's China Projects »
---
Describe your website.
My website is in its earliest stages. I have listed my musical projects in China such as Joker's Game, Dream Valley, Reignwood Theatre and Scrooge's New Year. The pages at the moment are only simple photo or video pages. My company is dedicated to developing the original Chinese musical as an artform in mainland China. The first full scale Broadway style musical I have completed is called Joker's Game and won two awards at the Dongguan International Musical Theatre Festival. Best Production and Best Loved by the Audience.
Who is the target audience for your website?
I am interested in attracting attention of the decision makers in cultural media companies in China particularly in Beijjng. These companies may be government owned or private. They will usually have a cultural program in the planning stages and are looking for professional assistance to maximize its potential.
What is the advantage of your website over others?
I am the only American based fulltime in China who is dedicated to developing original Chinese musicals. The US branch of my company has developed over 60 original musicals in the US including 6 that have transferred to Broadway. MTW for 15 years operated the 2nd largest rehearsal facility in NY, created a musical theatre training program that became New York University's studios and founded for the National Alliance of Musical Theatre the Festival of New Musicals in New York now in its 23rd year. The award winning Chinese musical Joker's Game has set a new standard for musicals in China.
Why did you use this Sandvox design?
I wanted to give viewers a quick snapshot of the projects I have done in China. Pictures quickly communicate the scope of a project and are eye catching. It was also the fastest way to get something up and running quickly.
---
---
www.SandvoxSites.com/2121