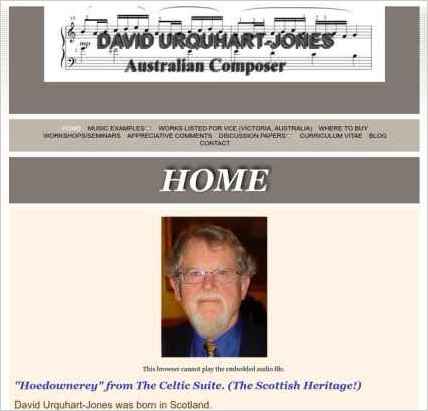 To build "David Urquhart Jones," David Urquhart-Jones and Barbara Muma chose Sandvox. They chose the "Simply Gray" design for the site. People may want to visit the site if they are looking for Composer and author of book on improvisation skills.
---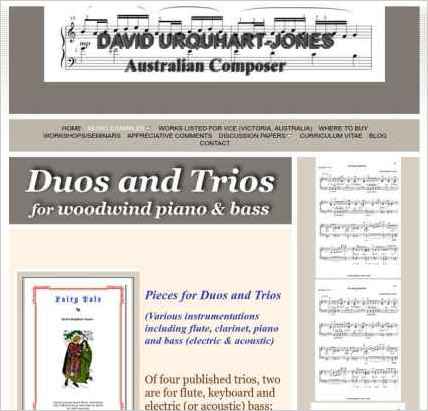 Describe your website.
David's website is primarily designed to introduce people to his compositions, through music examples, and to advise people of scheduled workshops/seminars on improvisation. Workshops are designed to present a systematic approach to the acquisition of improvisation skills. Those designed for music teachers include preparation of students to meet the improvisation requirements of music exam boards.
Workshops are available on request.
Who is the target audience for your website?
Musicians looking for new works to perform or teach. Particularly those whose musical tastes are broad enough to encompass jazz-related music as well as the common practice 'classical' repertoire. Music teachers, students would be interested. David's intention is also to persuade musicians to take the art of improvisation seriously to practice it and teach it.
What is the advantage of your website over others?
This website offers an introduction to the work of an Australian composer who has created works in many styles. Compositions range from short quirky piano solos; arrangements of nursery songs just for kids or the young at heart; pieces for wind and piano ensemble and orchestral works. Most of the piano pieces have backing tracks so that the pianist need never feel lonely.
Why did you use this Sandvox design?
The Sandvox design used is "Simply Gray" The simplicity of the design provided a subtle frame work to showcase David's music. The design also easily accommodated the placement of his many audio clips.
What techniques did you use to build this website?
We approached the task with some trepidation, but with the excellent guidance provided by the Sandvox application we emerged triumphant. (Brass fanfare!)
Interesting techniques are beyond us!
---
---
www.SandvoxSites.com/2271