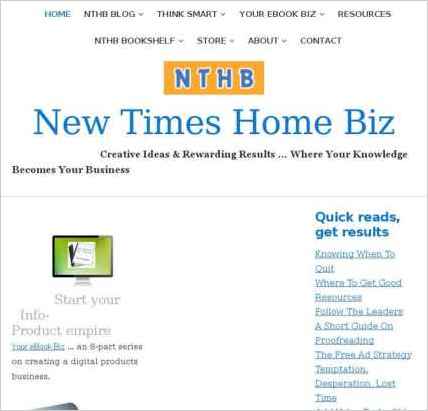 Sandvox was the choice for Des Menz to build his website. He chose the "Blueball Reactive Blue" design for the site. People may want to visit the site if they are looking for ebook creation publishing marketing selling.
Sandvox features used for this site:Blog, External Page, Photo Grid, Custom Collection Index, Site Map, Contact Form, YouTube, RSS Feed Object, Other Objects, Raw HTML Object, Code Injection, Google Integration
---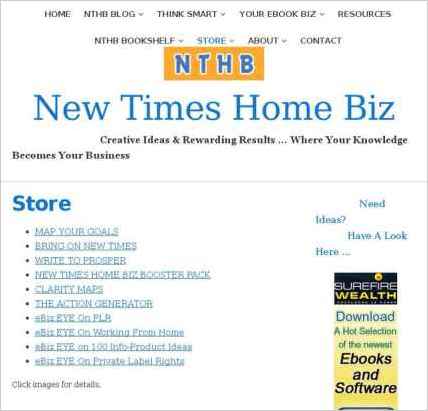 Describe your website.
New Times Home Biz is all about taking peoples' creative ideas and passions and turning them into products that sell.
Our key objective is to provide the catalyst for people to unlock the talent within, and provide the roadmap to success as an online entrepreneur by creating an eBook biz.
Our focus is to deliver the how-to in creating products that sell.
NTHB encourages senior citizens, retirees, and any person of any vocation, to tap into the extraordinary demand for "information." Aspiring online entrepreneurs can read about me and how I've transitioned my former work life to an online presence.
NTHB also provides free training and resources and a store from which great value eBooks can be purchased to advance the development of the budding online entrepreneur.
Who is the target audience for your website?
New Times Home Biz is for ...
* Anyone who has lost their job and is finding it difficult to make ends meet.
* People who desire to change their lifestyle and operate a business from home, to choose their own hours of work, to not be answerable to anybody else, and to be in control of their own destiny.
* Smart seniors who want to make additional income ... any senior person can do it! Why seniors? Because people over 50 are in new times all the time, they are vulnerable to loss of a job and diminishing income, and these times can be filled with uncertainty.
* Anyone seeking an alternative method to derive funds for ethical projects.
What is the advantage of your website over others?
New Times Home Biz is all about YOU, the online entrepreneur, and your success. Every bit of information provided and every info-product is all about helping you advance your online business. Offering a lot of free information including two 7-part e-courses about starting an online business based around eBook creation, New Times Home Biz seeks out life's battlers to give them hope about a new future for themselves. This is what sets us apart from our competitors.
Tell us a story about this website.
My Sandvox site was created after I had produced and published three eBooks about setting up an online home-based business. These eBooks were MY PLAN, which ultimately resulted in the website.
Although I knew I was heading into a fiercely competitive niche - the work-at-home niche - I discovered (both offline and online) that there were opportunities to engage with society's battlers and seniors, and to give them hope about changing their situations.
I considered that there were few genuine websites relating to this demographic about having an online business.
As a long-time self-employed person, I also felt that information offered in transitioning to an online business was not communicated in the language that could be easily understood by novices.
And so ... NewTimesHomeBiz was born.
Why did you use this Sandvox design?
Sandvox allows easy change of site design, so after using Blueball Gravitas initially, I then moved to Simple Rabbit's Hydrogen (the paid version). I like the simplicity and clean lines.
I have created my own header using a transparent image background. There's no PSD or GIMP or other complicated application involved in my design, because I used another low cost app that I've used for several years … The Logo Creator. There's more about TLC at my site.
Overall the Hydrogen design is clean and contemporary, but still provides a very professional finish.
What techniques did you use to build this website?
I've added an autoresponder (SendReach) optin form in Javascript, product sales pages, thankyou page, and subscriber page.
I wanted a powerful, low cost, easy-to-install e-commerce and shopping cart platform, and after much testing of at least four platforms I eventually decided on "ecwid." To my mind, it is amazing, and I've written a blog post about how I've used it.
A membership platform will also be added.
I've created my own header using the Mac app (also available in Windows) The Logo Creator, and have added social buttons from ShareThis, which I feel have an advantage over the Sandvox share buttons.
All images have been created by myself - I don't buy images. Often I create them in iWork Pages, capture them with Grab, change their format to jpeg, then insert them into my pages.
Info-product ecovers at the website were created with a smart online application.
I've used this technique throughout the site, and have used high quality images from both Clipart Prime and Clipart Collection (both Mac apps).
---
---
www.SandvoxSites.com/2260