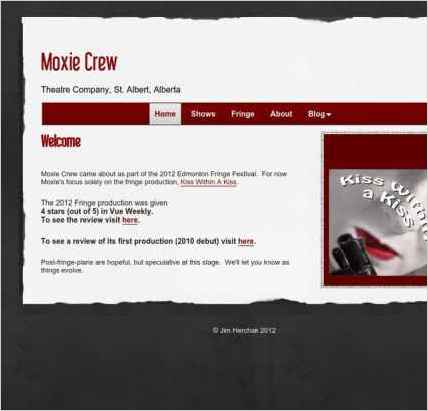 Sandvox was the choice for James Herchak to build his website for Moxie Crew. He chose the "Outside the Lines Maroon" design for the site. People may want to visit the site if they are looking for Kiss Within A Kiss Edmonton Fringe Theatre Play, Moxie Crew.
Sandvox features used for this site:Blog
---
Describe your website.
The immediate purpose moxiecrew.ca is to promote the play "Kiss Within A Kiss" at the 2012 Edmonton International Fringe Theatre Festival. Beyond that, the site will be let people know about future plays and other activities of Moxie Crew.
Who is the target audience for your website?
Our target audience includes those attending the 2012 Edmonton International Fringe Theatre Festival.
What is the advantage of your website over others?
I'm all for competition, but it's out of place at a Fringe Festival. For example, after the end of most plays, before the audience leaves typically the cast will take a moment to recommend other plays they've seen and liked. A Fringe Festival is less about competition and more about cross pollination.
Tell us a story about this website.
The 2012 Edmonton International Fringe Festival runs from August 16 to 26, and we're sure our new web site will helps us get noticed among the hundreds of performances.
Why did you use this Sandvox design?
Our play "Kiss Within A Kiss" has big, red lips in its logo, so we looked at designs that also used red. From the those we chose the one which seemed to work best with the lips.
---
---
www.SandvoxSites.com/2176