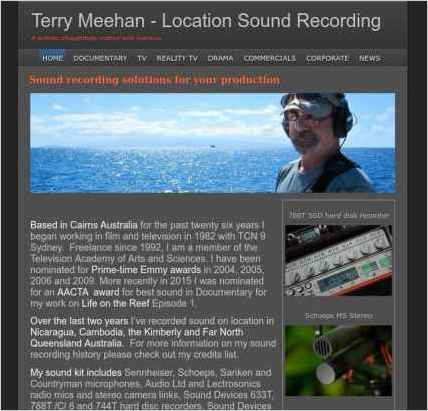 To build "Terry Meehan Location Sound Recording," Terry Meehan chose Sandvox. He chose the "Smooth Dark" design for the site. People may want to visit the site if they are looking for Sound recording for Film & Television.
Sandvox features used for this site:Blog, External Page
Visit Terry Meehan Location Sound Recording »
---
Describe your website.
My website advertises my sound recording services for film and television, commercials, documentary, reality television, drama, corporate production. It lists the equipment I have, microphones, wireless microphones, digital sound recorders. I also provide sound design services. I work internationally and in Australia.
Who is the target audience for your website?
My target audience are film and television companies and producers all around the world.
Why did you use this Sandvox design?
The Sandvox design that I chose was immediately appealing and seems to suit my purpose well.
---
---
www.SandvoxSites.com/2184