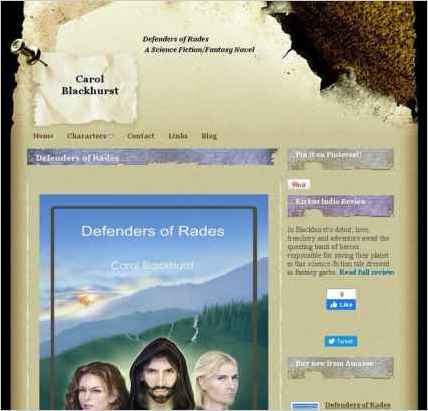 Carol Blackhurst used Sandvox to build this website. She chose the "Gnarled" design for the site. People may want to visit the site if they are looking for Science fiction/fantasy novel.
Sandvox features used for this site:Amazon.com
Visit Defenders of Rades - A Novel »
---
Describe your website.
This website is intended for fans of my science fiction fantasy novels. It includes images of the characters from the books. It will include tidbits and blogs of future books during their creation.
Who is the target audience for your website?
Readers of science fiction/fantasy novels.
What is the advantage of your website over others?
My novels are a unique blend of both science fiction and fantasy genres.
Tell us a story about this website.
I began creating the world of my novels over thirty years ago. These people lead very real, active lives - inside my head.
Why did you use this Sandvox design?
It seemed the most fitting for a novel series with a medieval setting.
What techniques did you use to build this website?
I used the Amazon link to the purchase page of my novel. I added photo pages for each of my characters.
---
---
www.SandvoxSites.com/1709