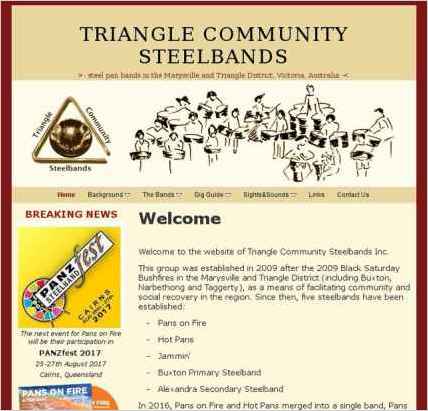 To build "Triangle Community Steelbands," Tony Richardson chose Sandvox. He chose the "Clockwork Maroon" design for the site. People may want to visit the site if they are looking for steel pan bands in Marysville Australia.
Sandvox features used for this site:Contact Form, YouTube, QuickTime Audio/Video
Visit Triangle Community Steelbands »
---
Describe your website.
This website about the Triangle Community Steelbands in the Marysville region in Victoria Australia, provides details about the Pans on Fire, Hot Pans and Jammin' steel pan bands.
The website includes a Gig Guide for each band and shows the members of each of The Bands. It also includes examples of audio and video Sights and Sounds of each band.
Who is the target audience for your website?
Steel pan musicians around the world. People interested in the recovery of Marysville after the devastating bush fires on Black Saturday in 2009.
Why did you use this Sandvox design?
It just looked the best, and enabled us to use the banner we had designed.
---
---
www.SandvoxSites.com/1698