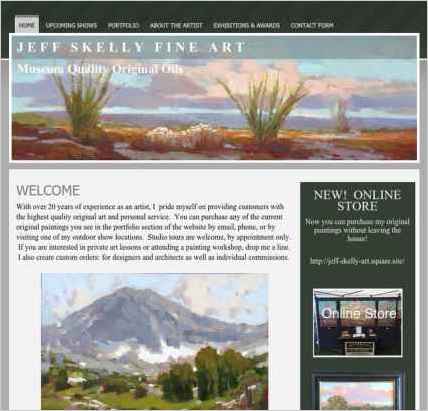 To build "Jeff Skelly Fine Art," Jeffrey Skelly chose Sandvox. He chose the "Galaxy Brown" design for the site.
Jeff Skelly Fine Art
(Website is no longer listed here.)
Sandvox features used for this site:Photo Grid, Site Map, Contact Form
---
Describe your website.
I create original impressionist oil paintings for sale to designers, architects and homeowners. The website shows a variety of paintings for sale along with background information on me and lists of exhibitions and shows where the work can be purchased.
Who is the target audience for your website?
Art collectors, home owners, interior designers, architects, people who love nature and the outdoors, aspiring artists all have an interest in the work I do.
What is the advantage of your website over others?
Ease of use, elegant design and beautiful art.
Why did you use this Sandvox design?
I was looking for a design that would compliment my paintings and since I am a landscape painter the earthy colors matched well.
---
---
www.SandvoxSites.com/1551