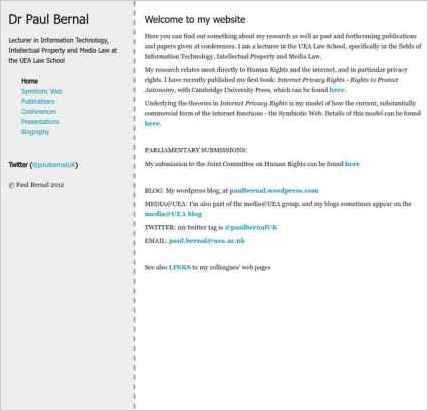 Paul Bernal used Sandvox to build this website. He chose the "Dashed" design for the site. People may want to visit the site if they are looking for Internet Privacy Research.
Sandvox features used for this site:External Page, Editing HTML of text
---
Describe your website.
My website is designed to give details of my work: my underlying theory of the symbiotic web, my publications, the conferences I attend and the presentations I have given at these conferences. My aim is to tell people what I do and to provide access to more of my work as well as links to be able to contact me.
Who is the target audience for your website?
Mostly academics interested in privacy, autonomy and human rights, particularly in relation to the Internet.
Why did you use this Sandvox design?
I chose the design for its simplicity and professionalism. I want people to focus on the content, and to be able to find what they need - and at the same time see that I am professional and direct.
What techniques did you use to build this website?
---
---
www.SandvoxSites.com/1541