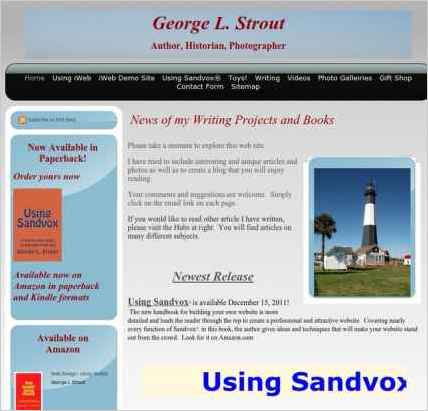 George Strout used Sandvox to build this website. He chose the "Business" design for the site.
George L. Strout
(Website is no longer listed here.)
Sandvox features used for this site:Blog, Photo Grid, Site Map, Contact Form, RSS Feed Object, Raw HTML Object, Google Integration
---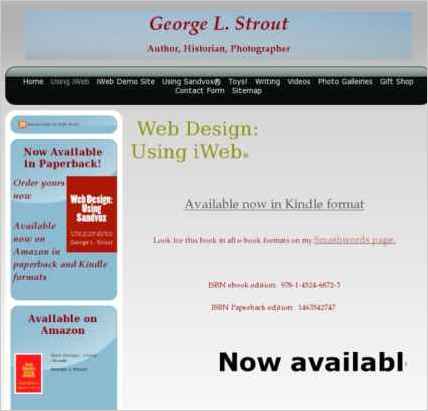 Describe your website.
On my site you will find: Promotion of iWeb and Sandvox® books, writing blog, writing projects on history, pioneers, Methodist Church, Bryan, OH, photography, art photos and updates of new books
Who is the target audience for your website?
I am targeting people who want to build their own web site as well as readers, writers, friends, fans, supporters and authors. I want to make a site that people will enjoy visiting.
What is the advantage of your website over others?
This site is easy and clear to read and navigate. It contains useful and interesting thoughts and information. The blog will be updated regularly with divers articles.
Tell us a story about this website.
The site is a replacement for my original iWeb site and may lead to a new book.
Why did you use this Sandvox design?
I felt the design fits my porduct and personality. It looks clean and professional. I am still looking for ways to customize it.
What techniques did you use to build this website?
I used only my own photos in the entire site. I used a favorite HTML snippet for a scrolling banner on the web design pages.
---
---
www.SandvoxSites.com/1565