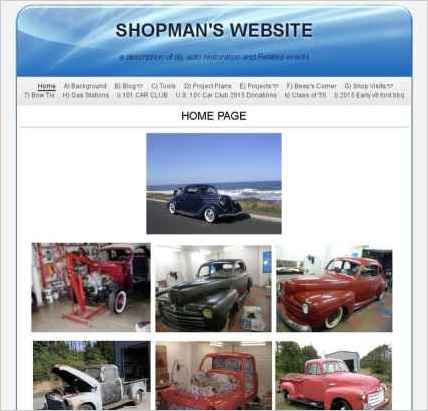 To build "Shopman's Web Site," Kent Hansen chose Sandvox. He chose the "Cirrus" design for the site. People may want to visit the site if they are looking for Auto Restoration and Modification into S.
Sandvox features used for this site:Site Map, Code Injection, Google Integration
---
Describe your website.
The Website is to present information about my projects processes and gearhead interests to others that are interested and looking for information they can use. The site is broken into sections: Section A) "Background" is to give some idea as to how I'm qualified to develop and maintain the site. Section B) "Tools and Aids" is made up of photos and descriptions of tools I use. Section C) "Projects" is a list of projects with a short description of each followed by photos and descriptions of the restoration/modification of each project. Section D) "Beeps Corner" is for Beep's (my better half's nickname given to her years ago) comments. Section E) "Shop Visits" is a presentation of photos, descriptions and comments of my gearhead friend's shops, tools and projects. Section F) "Events" is where I report on events I've attended and upcoming events I hope to attend.
My intention in presenting the forgoing is to share this information with others who have similar interests. I will add links to restoration and street rod related sites as well as a medium for visitor responses and Google Adds.
Who is the target audience for your website?
I want to reach those interested in auto restoration and street rods who have a do it yourself attitude.
What is the advantage of your website over others?
It's my intention to build a network based on restoration and street rod interests. I think sharing information is more what i desire rather than competing with other sites.
Tell us a story about this website.
Visitors to my site are a lot more wide spread than I thought. I've had visitors from all over the US as well as a few in Europe and Australia.
Why did you use this Sandvox design?
I wanted the site to be simple, easy to move through and attractive.
What techniques did you use to build this website?
Photo and text integration. Linking between pages and content areas.
---
---
www.SandvoxSites.com/111