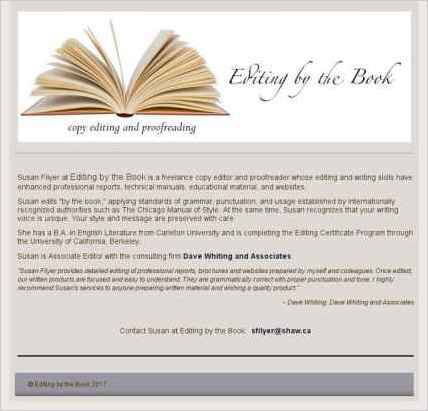 David Whiting used Sandvox to build this website. He chose the "Cathedral" design for the site. People may want to visit the site if they are looking for copy editing and proofreading.
Sandvox features used for this site:Google Integration
---
Describe your website.
Editing by the Book is looking for clients interested in copy editing and proofreading services.
Who is the target audience for your website?
authors, students, publishers, report writers, magazines, journals, periodicals
Why did you use this Sandvox design?
I chose the Cathedral design and replaced the banner with a custom banner I made in Paintbrush (a free download).
My client liked the elegance and tone of the design.
What techniques did you use to build this website?
I replaced the Cathedral banner with a banner I made of the same size using Paintbrush, a free download. I turned of the Site Title and Tag Line and put everything in the header.
---
---
www.SandvoxSites.com/1763